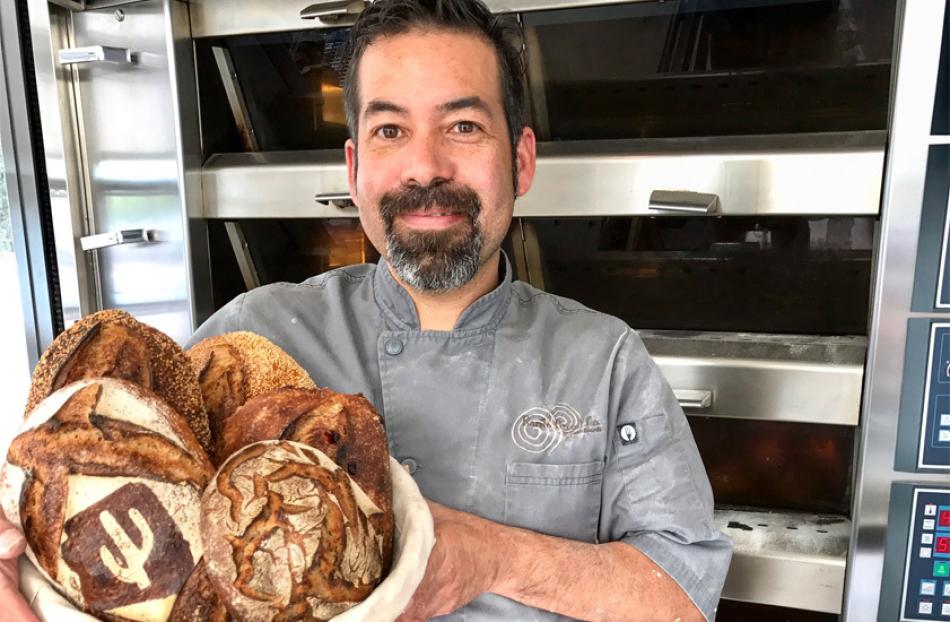 Meet the Maker
Don Guerra of Barrio Bread
Don Guerra of Barrio Bread's enthusiasm for artisanal bread translates into a bakery that's not only rallied the community, but has also garnered national attention.
There are certain crafts that require an artisanal touch and an experienced set of skills. In our "Meet the Maker" series, we dive into the worlds of Arizona's most skilled artisans. This article takes us to Tucson to meet Don Guerra of Barrio Bread.
Arizona native Don Guerra has many titles. He's a business owner. He's a baker. He's an artisan. He's an entrepreneur and a teacher, a maker and a scientist. And he's managed to combine all of his loves into one thriving Tucson business: Barrio Bread.
"I love bread," he says. "It's my passion. It's my vehicle to reach people and to rally the community."
This enthusiasm for artisanal bread translates into a bakery that has not only rallied the community—on any given day devoted locals fill Barrio Bread's tiny space, eager to buy fresh loaves—but has also garnered national attention from the likes of The New York Times and USA Today.
To what does Guerra attribute his success?
"Authenticity," he says. "It's kind of this American story."
How it all started
The story goes something like this.
As with many makers, Guerra's interest started at home. His favorite childhood food was bread, especially the bread baked by his mom and grandma. His professional fate was sealed when the first job he landed after graduating from college was as a bread maker in Flagstaff. From there, he opened his own bakery in Flagstaff. He moved to Oregon for a while, but he returned to Arizona to teach. Even when Guerra was teaching full-time, though, his heart belonged to breadmaking; he baked once a week for neighbors and fellow teachers.
"I'm a 'bread-educator,' " he says. "I'm someone who loves education, but also bread. How am I going to teach bread?"
His answer was to start baking bread out of his garage in 2009. Seven years later he opened a storefront in Tucson.
A maker and his medium
To create his bread, Guerra employs a French-style technique he's been using since the early days of his career, relying on the starter levain, or French sourdough, as the foundation of the bread. All of Barrio's breads are leavened with sourdough cultures.
"Sourdough creates a lot of magic," Guerra says. "It acidifies the dough. The sourdough lowers the pH, which creates enzymes. These enzymes break down the starches to complex carbohydrates, the proteins to amino acids. This conversion takes place, making the bread more digestible, more flavorful, better looking and with improved texture."
Guerra sources organic, mostly locally grown heritage grains in all of the 3,700 loaves he makes weekly. And his oven, like the grains in the bread, is rooted in artisanal tradition.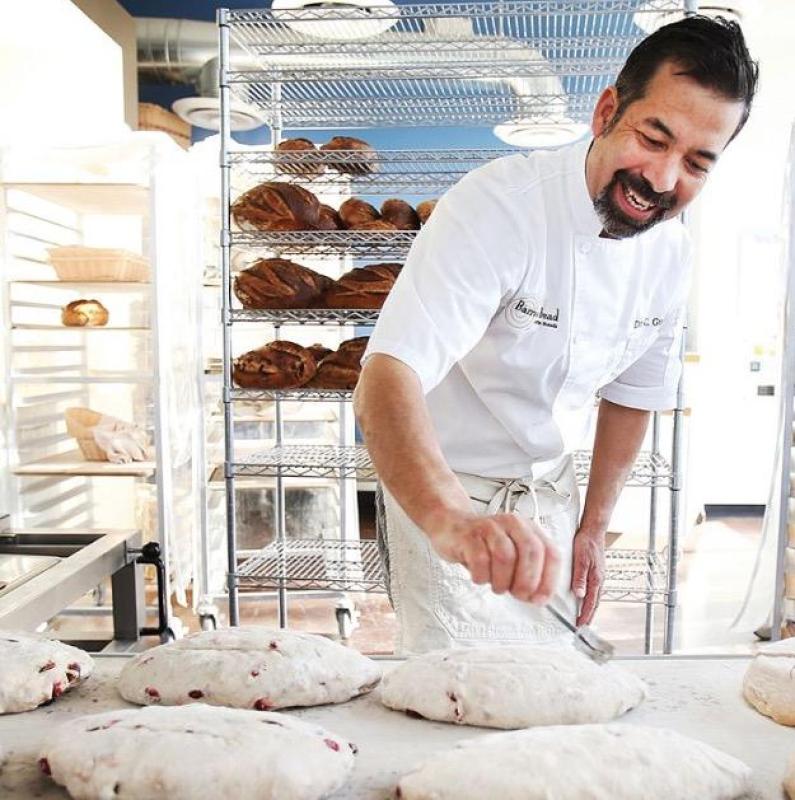 A maker and his tools
Guerra uses a gigantic Italian deck oven imported from Verona, Italy. Its size alone is impressive, but what it can do to bread is even more so.
The oven's stone tiles give the bread a "steam injection," Guerra explains. The steam helps to develop the crust and color, and also delays the formation of the crust. This is hearth baking—what Guerra calls it the "proper way" to make bread—and it gives his loaves their signature, multi-textured feel and taste: crispy on the outside and chewy and airy on the inside.
Back when Guerra was still making bread in his garage, he started using stencils to add flour imprints on the surface of his creations. His first stencil? A saguaro, the iconic cactus that represents his home state.
"I needed to have a story," he says. "The saguaro is recognized."
On the Barrio menu, you'll see a loaf called Desert Durum—nutty in flavor, crunchy in texture. And emblazoned on the top of the dough? The saguaro—an image now synonymous with not only the Barrio brand but Arizona itself.
"No one is going to make Barrio Bread," Guerra says. "It's an expression of our locale."
Where to try the bread
You can purchase Barrio Bread at Guerra's storefront in Tucson at Broadway Village, 18 S. Eastbourne Avenue. Store hours are Tuesday-Friday, 9 a.m.-5 p.m.; Saturday, 9 a.m.-2 p.m., or until the bread is gone. Prices range from $1 to $25.
Other Tucson spots to pick up a loaf include Maynard's and Cup Café. Guerra has also teamed up with Tucson chef Riley Chandler to create Barrio Sandwiches, available before and during performances at Arizona Theatre Company.