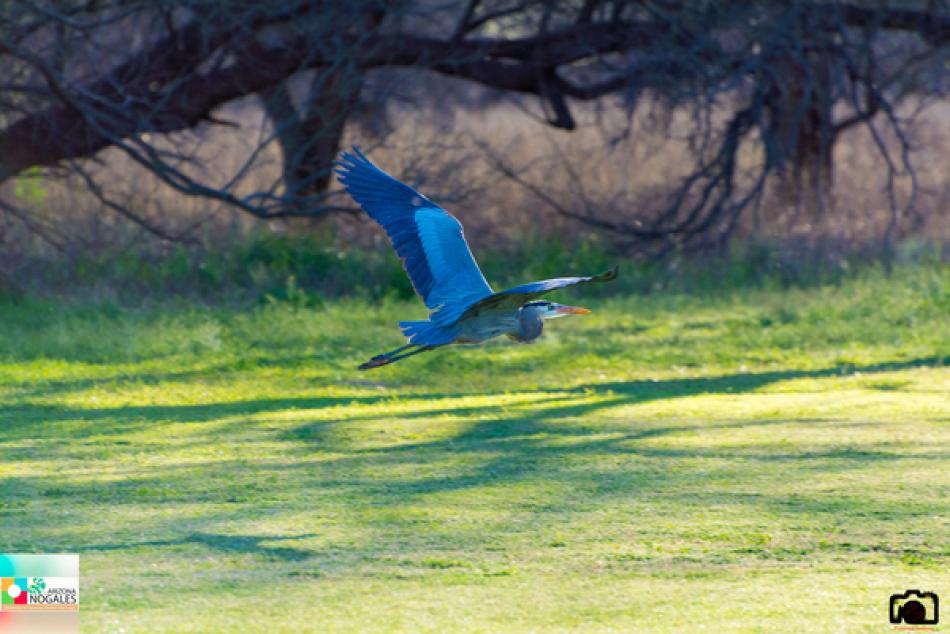 Hotels for Birdwatching
Arizona's unique accommodations offer prime spots to spot native species.
Arizona is an ideal place for birdwatching, with more than 530 species documented in the state, including 300-plus that have nested here. After waking early to spend a busy day tracking eagles, herons, hummingbirds and an elegant trogon or two, you, too, are going to want to nest down for the night. Here are just a few inns - some of which offer special birding programs - that put you in the middle of our feathered friends' habitats.
Ski Lift Lodge, Flagstaff
At first glance, Ski Lift Lodge in Northern Arizona might seem like an odd choice for birders. The more than one-dozen folksy cabins in the pines are packed with snowboarders and skiers in winter, who head uphill to hit the slopes at Arizona Snowbowl. But once the snow melts, things quiet down. Northern Arizona Audubon Society lists the meadows and trails of the surrounding national forest as a major birdwatching site, known for Clark's nutcrackers, sooty grouse, bluebirds, green-tailed towhees and more.
The Inn Above Oak Creek, Sedona
In Central Arizona, The Inn Above Oak Creek is just that - luxe lodging in the middle of Sedona just above the creek's leafy riparian zone. If you can tear yourself away from the modern rooms' scenic balconies, fireplaces and whirlpool tubs, you can meander down to the creek with your complimentary Continental breakfast to look for wood ducks, flycatchers and woodpeckers - and perhaps even catch a glimpse of a rare yellow-billed cuckoo. A short drive away, Red Rock State Park offers year-round guided bird walks.
The Tavern Hotel, Cottonwood
Not far away, The Tavern Hotel in historic downtown Cottonwood features sleekly decorated, sumptuous rooms that are just steps from the town's many wine-tasting rooms, restaurants and shops. The hotel is also close to the bird-dense Verde River via a series of meandering trails, where you can see orioles, kingfishers, tanagers, swallows and more. You'll end up at Dead Horse Ranch State Park, another popular birding place and the site of the annual Verde Valley Birding and Nature Festival.
Saguaro Lake Guest Ranch, Mesa
Outside Phoenix, Saguaro Lake Guest Ranch opened as a camp in 1927 to house workers building the dam that formed Saguaro Lake on the Salt River. Today, 20 rustic cabins and the historic rock-walled lodge welcome guests along the banks of the river and in the shadow of craggy cliffs, both of which are home to eagles, herons, egrets and many migratory birds. After a hearty ranch-style breakfast at the guest ranch - designated an Important Bird Area by the National Audubon Society - look for feathered friends along the riverbank or on trails in the surrounding national forest.
Chuparosa Inn, Madera Canyon
In Southern Arizona, Madera Canyon cuts deep into the Santa Rita Mountains and is a peaceful place for birdwatching and hiking. Surrounded by national forest and straddling Madera Creek, Chuparosa Inn is an optimal base for viewing the canyon's hummingbirds, elegant trogons, tanagers, warblers, owls and even bats, wild turkeys and the occasional bear. The woodsy, two-level inn has four cozy suites and provides a complimentary Continental breakfast. The inn is surrounded by a rock-walled patio and balconies, which make great perches for lazy birding if you don't feel like hiking the canyon's easier, lower trails.
Duquesne House, Patagonia
The Duquesne House, located in the charming small town of Patagonia in Southern Arizona, is near The Nature Conservancy's Patagonia-Sonoita Creek Preserve and the Sonoita Creek State Natural Area, both major birdwatching spots, as well as the Tucson Audubon Society's Paton Center for Hummingbirds. The historic adobe inn, which has four suites decorated with antiques and Mexican crafts, also connects visitors with local bird guides who can take you to sure-fire spots and help you discern the difference between, say, the spotted and the canyon towhee. If you prefer a more relaxed form of birding, hit the inn's hammock in the garden with a glass of wine and watch the hummingbirds hover around feeders.
Casa de San Pedro Bed & Breakfast, Hereford
Not far from The Nature Conservancy's Ramsey Canyon Preserve and other Southern Arizona birding spots, Casa de San Pedro Bed & Breakfast in Hereford offers not only 10 modern hacienda-style rooms that open onto a courtyard, but a regular calendar of birding programs as well. Inn guests can participate in hummingbird banding, guided bird walks and special weekends filled with bird-centric seminars. The innkeepers also work with a number of bird guides for custom tours, so you can be sure to see painted redstarts and black-chinned hummingbirds in their natural habitats.
Coronado Motor Hotel, Yuma
Along Arizona's West Coast, the Spanish-style, historic Coronado Motor Hotel has been greeting guests in downtown Yuma since 1938. With updated rooms, two pools and a complimentary breakfast, the Coronado puts you within walking distance of the city's Gateway, West Wetlands and East Wetlands parks along the Colorado River - great places to catch glimpses of grebes, egrets, ibises and more. Imperial and Kofa national wildlife refuges are also a short drive away.