First-Timer's Guide to the World's Largest Gem Show
Drawing crowds from around the world, the Tucson Gem, Mineral & Fossil Showcase offers gems, of course—rare, beautiful, loose, fitted and finished in jewelry—but there's so much more to this annual mega-event.
From a small gathering of gem and mineral collectors, professionals, amateurs and hobbyists in the 1970s, the winter gem show in Tucson has grown into an international annual event that draws thousands to an experience that is part museum, part shopping and entirely unique.
And exploring it can get overwhelming, fast. So we've put together this guide to help you make sense of what Visit Tucson calls "the world's largest treasure hunt."
One gem show or many?
The original, oldest, and most prestigious show is the Tucson Gem and Mineral Show®,held annually at the Tucson Convention Center in the city's downtown district, which features 160-plus exhibits and a packed schedule of seminars and lectures.
"We are an educational event for the public," says Dr. Peter Megaw, co-chair of the show, and exhibits chairman. "We have lectures, things for kids, all kinds of interactive stuff. Essentially, what we create is a four-day mineral museum that has some of the best specimens in the world."
However, and this is where it gets confusing, you'll find many locals often use the generic phrase "gem show" to refer to both TGMS and the 40-plus official and unofficial shows, events, and tents that spring up near and around the city around the same time.
Unlike other exhibitions, the Tucson (lowercase) gem show is fairly democratic in who is able to sell as a vendor. Coast along the major highway, Interstate 10, and nearly every hotel and motel will have signs touting their own show(s) where individual rooms are transformed into pop-up shops selling everything from crystals and African crafts to jewelry, clothing and single gems from Asia, Europe, Latin America, India and the U.S
Other, larger shows will rent out football-field-sized tents near stadiums or lease event halls to house their hundreds of vendor booths.
Note: Some gem shows are strictly for wholesale shoppers and buyers, and entrance to these is permitted only via pre-registration that often requires a business license and/or past receipts proving yours is a viable jewelry or related business. Check the Tucson Gem Show mobile site for events that are open to the public.
Which gem show should you visit?
With so many shows happening simultaneously, choosing which to visit depends on what interests you the most.
For example, the Whole Bead Show and To Bead True Blue are devoted to the display and sale of beads. Others, like the African Art Village and American Indian Art Exposition, feature more cultural artifacts and goods. Still, others specialize in pre-made jewelry or single stones, settings and other tools of the lapidary trade.
If you're more interested in the educational aspects of the show, the Tucson Gem & Mineral Show has numerous workshops and lectures, such as "A Short History About How Impossible Crystals Came to Earth from Outer Space" and "Mineral Photography," in addition to exhibits with the Smithsonian's collection of jewelry and gems and the rare "Ram's Horn" gold wire found in the Colorado Ground Hog Mine in 1887.
Try to set aside at least one or two full days to explore 2-3 shows that sound particularly interesting to you. Check the mobile site for brief descriptions and links to nearly every show, as well as dates, hours, locations, entrance fees and other information.
Note: Don't be afraid to haggle. While you may find it more welcome at smaller shows or vendors, the gem show is a place where deals are meant to be made and bargaining is part of the experience.
Where to stay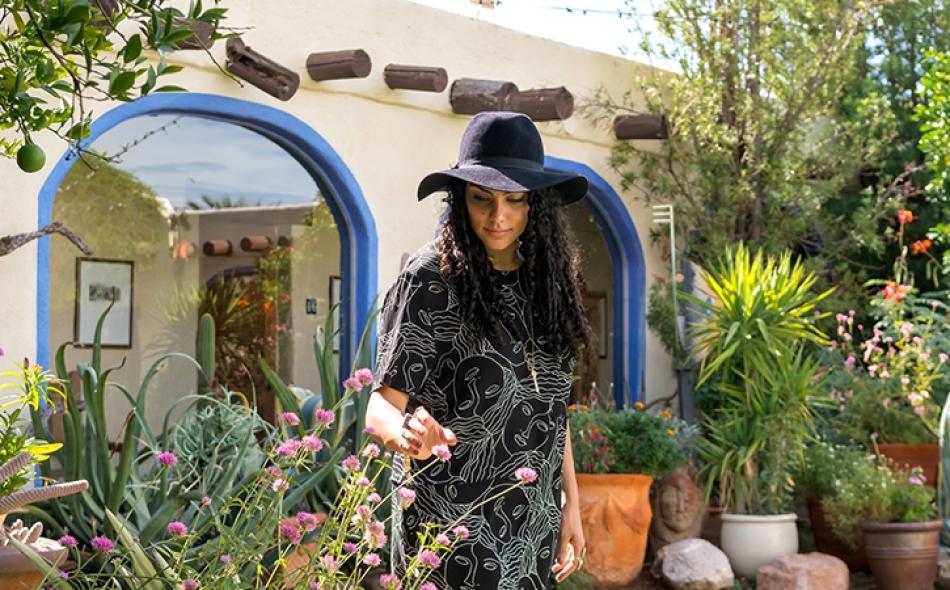 Fair warning: Hotel rooms for this popular winter event fill up fast, often months in advance. Wait too long and you'll end up paying higher rates or staying farther away and in need of transportation
You can't go wrong staying at one of the downtown Tucson-area hotels, such as the newly opened AC Hotel Tucson Downtown or landmark Hotel Congress. The art-friendly Hotel McCoy on the west side of I-10 (near several shows) offers guests discounts to nearby businesses and attractions, making your stay a little sweeter should you decide to step away from all the gems to see more of Tucson.
Several airport-area hotels also offer limited free shuttle service to nearby shows. (Click here for a partial list.)
For those for whom location and transportation aren't an issue, consider a luxurious stay at resorts such as Casino del Sol, which has its own onsite gem show and plenty of entertainment options; JW Marriott Tucson Starr Pass Resort & Spa for its peace and quiet; or the historic Hacienda del Sol with its Southwestern-inspired atmosphere and storied past.
Tip: Park once and hop on any one of the free shuttles offering rides from show to show or the equally free GemRide shuttles provided by the city of Tucson.
Find more information on the Tucson gem show at Visit Tucson's Gem Show FAQ page.