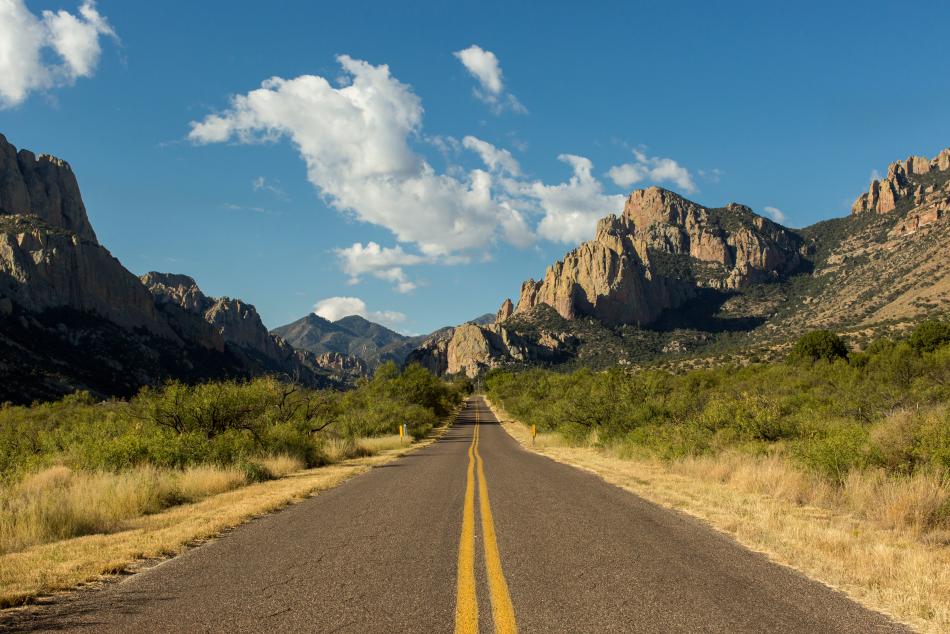 Epic Fall Road Trip: Cave Creek Canyon
Yosemite of Arizona' beckons birders, scientists, and hikers in search of gorgeous biodiversity.
For five months out of the year, Cave Creek Canyon is a birder's paradise. The rest of the time, it's just paradise.
"Isn't it just the most magical place on Earth?" hiker Shefali Desai asks me, rhetorically, when I encounter her on South Fork Trail, beneath a canopy of pine, oak and sycamore trees. Desai, who lives in Tucson, tells me she's been coming to Cave Creek Canyon for 19 years. This is my first visit.
"It's pretty amazing," I concede, tilting my head to see the see the gold and ochre cliffs peeking above the treetops. "And it feels like we have it all to ourselves."
Cave Creek Canyon is located in southeastern Arizona, on the eastern side of the Chiricahua Mountains. Were you a crow—or an Elegant Trogon or a Mexican Chickadee or another of the 200-plus species of birds that take up seasonal residence in Cave Creek Canyon—you could fly seven miles east and arrive at Arizona's border with New Mexico. Or, after a 13-mile flight northwest, you could alight on one of the hoodoos at Chiricahua National Monument.
If you're a human, and you arrive by car, you access this "magical place" from the tiny town of Portal, which sits at the mouth of the canyon. My wife and our 9-month-old son arrived at sunset on a Friday night and got a room at the Portal Peak Lodge. The lodge sits behind a café and store that, according to the owner, has changed hands only three times since 1929.
Portal Peak Lodge is just the sort of place you want to roll into after a day of Arizona road-tripping. The deck outside our room afforded unfettered views of the stars, and on Saturday night the café served a special of excellently smoked pork ribs and had live music on an outdoor stage in the adjoining courtyard.
There's little to Portal besides the lodge, a post office, and a handful of cabins that cater to birders. The nearest gas station is 60 miles away. When the birders aren't in town, it is the picture of rural seclusion.
About those birders: They come to Portal every migratory season (May through September) because Cave Creek Canyon is one of the best birding destinations in North America. The canyon contains six habitat biomes, from desert scrub to conifer forest, and sits at the convergence of four major ecozones: the Sonoran Desert, the Chihuahuan Desert, the Rocky Mountains and the Sierra Madre Occidental. About half of the bird species in North America can be spotted here, and the upper reaches of the Chiricahua Mountains mark the northern breeding limits for several Mexican species.
Thanks to its astounding biodiversity, Cave Creek Canyon is fertile habitat for not only breeding birds but, well, eggheads. Portal is said to have more Ph.D.'s per capita than any community in Arizona. The reason: Scores of biologists, geologists and anthropologists set up shop here to conduct field research.
Many of them can be found five miles up-canyon at the Southwestern Research Station. Since 1955, this outpost of the American Museum of Natural History has helped scientists and students from all over the world carry out their research projects. The station's grounds are open to the public, and in fall guests can book accommodations on site.
My wife and I pull into the research station's gravel parking area on a Sunday morning and proceed to spend nearly an hour observing and photographing the staggeringly diverse array of hummingbirds buzzing around feeders in the hummingbird-monitoring area. A volunteer informs us that Arizona has more hummingbird species than any other state in the U.S., and that you can find almost all of them in Cave Creek Canyon—including several Mexican species rarely seen in this country.
While leafing through a history book at the research station's gift shop I come across a black-and-white photograph of a sign that used to greet travelers entering Cave Creek Canyon. "The Yosemite of Arizona," the old sign reads—a nod to an El Capitan-like formation called Cathedral Rock and the many other sky-piercing stone spires along the canyon's flanks. But comparing Cave Creek Canyon to Yosemite does each place an injustice. For one, Cave Creek Canyon lacks Yosemite's scope and grandeur; there are no 2,000-foot waterfalls or glacial lakes. But it also lacks the 5 million visitors who annually flood YosemiteThere's a self-contained intimacy to the canyon: Only one road traverses it, and every trail and campsite along the way feels like a secret. Even the lichen covering the stone cliffs seems nature's version of acoustic insulation, designed to keep birdsong from traveling to undeserving ears.
It's not surprising, then, that my family and I are the only non-locals enjoying barbecued ribs and fiddle music on Saturday night at the Portal Peak Café. The lodge's other occupants are members of the band, down from Tucson, and a couple of employees who've driven in from Silver City, N.M., to help serve the Saturday-night revelers.
Though Portal was likely named by Spaniards, the locals pronounce it the English way: "portle." Either way, the word's meaning is the same. To Shefali Desai, the hiker I met on the trail, Portal's name is perfectly apropos.
"I've always thought of those imposing rock formations you see as you make the turn past the Portal Peak Lodge and gaze into Cave Creek Canyon as a portal into another world, another dimension," she says. "It's not just the landscape, but also the feel of the place. Sometimes, when I hike alone on the South Fork trail, I feel spirits emanating from the cliff walls and whispering in the running water."
Desai is not one of Portal's resident Ph.D.'s—she's a lawyer and a visitor. But she nonetheless has a way with words and a nose for revelation. I suspect it's not the last time I cross her path in Cave Creek Canyon, my new-favorite destination for an autumn road trip.
IF YOU GO
Drive time from Tucson: 2½ hours
Where to Stay: Portal Peak Lodge, PortalLodge.com
Where to Hike: South Fork Trail (easy) or Silver Peak Trail (strenuous)
Scenic Side Trip: Chiricahua National Monument is accessible from Portal via Pinery Canyon Road, which crests Onion Saddle at 7,600 feet. This mostly unpaved road offers gorgeous views, but it's inadvisable in darkness or bad weather. The 25-mile route takes more than an hour to complete, and a high-clearance vehicle is recommended.
Photos by Jill Richards