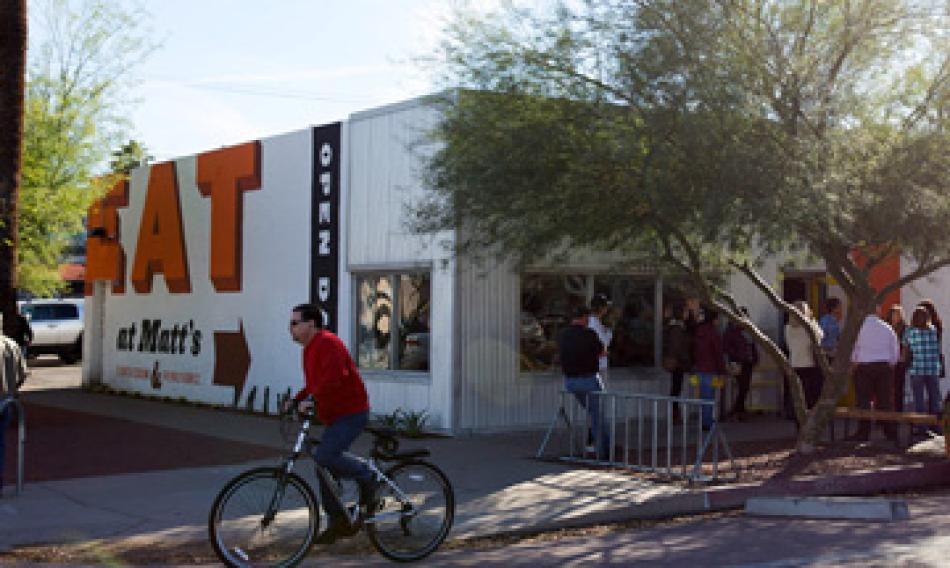 Eat Like a Tourist: Phoenix
Everyone says to eat like a local, but what about those great tourist spots? Here are 5 legendary Arizona restaurants to try.
You've heard the refrain, and it's a noble one: "Eat like a local." But what if you want to be an unapologetic tourist and try an Arizona restaurant you've been hearing about for years? There's a reason these places are famous, right? So go for it. This edition of "Eat Like a Tourist" takes us to Phoenix.
DURANT'S
Why It's Famous: The History
Regulars have entered Durant's through the kitchen since the swanky steakhouse opened in 1950. Only the unsuspecting enter the pink building through its front door. Long a bastion of power players and three-martini lunches, Durant's still sported red-flocked wallpaper, cushy banquettes and formally attired servers who dish up Porterhouse steaks, lamb chops and chicken Oscar in a blissfully vegan-free bubble. Joe DiMaggio, Clark Gable and John Wayne regularly dined at Durant's, and the place even inspired a feature film (albeit not a very good one). A martini here is de rigueur, but Durant's has been a Wine Spectator-awarded restaurant for eons. If you squint your eyes, you might see the ghosts of founders Jack Durant and Jack McElroy perched on barstools, telling tall tales.
MATT'S BIG BREAKFAST
Why It's Famous: Food Network Fave
Credit: Matt's Big Breakfast
Downtown Phoenix denizens have flocked to Matt's Big Breakfast since it opened in a small storefront in 2004. Owners Matt and Erenia Pool have since seen the word about their farm-to-diner breakfast fare spread like wildfire thanks to appearances on Food Network shows like "Diners, Drive-ins and Dives" and "The Best Thing I Ever Ate." Try the Chop & Chick, a skillet-seared Iowa pork chop with two eggs. Or, if you're a tad health conscious, go for the steel-cut oatmeal with organic brown sugar and raisins. You won't walk away hungry, especially now that the restaurant offers four locations throughout metro Phoenix.
PIZZERIA BIANCO
Why It's Famous: Oprah Says the Pizza Is Best
Since Chris Bianco opened his Pizzeria Bianco in 1996 in a tiny, historic downtown Phoenix building, critics from The New York Times, Vogue and a billion other media outlets, plus Ms. Oprah Winfrey, have lauded his perfect pies. Bianco owns a James Beard Award—the first pizzaiolo to be so honored—and recently penned a book titled "Bianco: Pizza, Pasta and Other Food I Like." His simple menu features wood-fired pizzas with crispy, chewy crusts, topped with house-made mozzarella, local meats and super-fresh produce that will leave you swooning.
DIFFERENT POINTE OF VIEW
Why It's Famous: The Views
Credit: Different Pointe of View
Different Pointe of View has been the go-to spot for sunset selfies and city-lights views for more than 30 years, thanks to its expansive patio and floor-to-ceiling windows. Perched on a knoll above Pointe Tapatio Hilton Resort overlooking the Phoenix Mountains Preserve, the AAA Four-Diamond restaurant is helmed by longtime chef Anthony DeMuro, whose Mediterranean-inspired, dinner-only menu includes entrées like tomato and balsamic-infused bistro steak, or duck and ricotta salata ravioli. (Insider tip for those prone to vertigo: Avoid white knuckles by letting the courtesy shuttle whisk you up and down the steep road to the restaurant.)
TEE PEE MEXICAN FOOD
Why It's Famous: It's the Pick of Presidents and Pink Floyd
Since it opened in 1958, Tee Pee Mexican Food has been a cornerstone of Phoenix's Arcadia neighborhood, offering margarita pitchers, chips and salsa, and a menu of unvarnished classics like machaca tostadas, sour cream enchiladas and chile rellenos. It's so authentic (the red leather booths are original, and the dimly lit bar hasn't changed in a half century) that Tee Pee has become a favorite pit stop for visiting dignitaries and celebs like President George W. Bush, Sen. John McCain, and members of ZZ Top and Pink Floyd. The best way to enjoy your Tee Pee supper is to sit at the bar and order the chili-topped quesadilla Mary-Lou, named for a longtime patron.