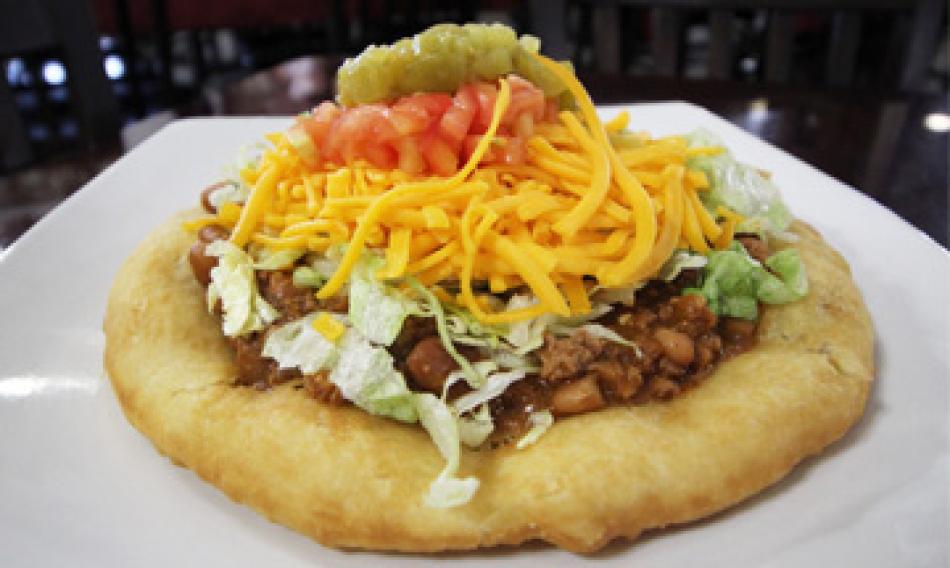 Don't Mistake Indian Fry Bread for Funnel Cake
We break down everything you want to know about fry bread—from its complicated history to how to enjoy its chewy goodness.
We'll admit it. Gastronomy in Arizona can be confusing, from distinguishing between chile peppers to learning how to pronounce chilaquiles. In the "Arizona Food Defined" series, we fulfill your culinary curiosity about the Grand Canyon State.
Is American Indian fry bread the same thing as funnel cake? Nope, not at all. They might use similar ingredients—but, then again, so do cookies and cake.
Let's put it this way: If you have the ingredients to make funnel cake, then you have the ingredients for fry bread. Fry bread—also known as Indian fry bread or Navajo tacos—is made from flour, salt, baking powder and warm water. Plus shortening, in which to fry the dough. These staples were all American Indian tribes had access to when fry bread was first created (more on that later). Funnel cakes utilize those same basics but also include eggs, milk and sugar.
Beyond this, the tastes, textures and origins of the two foods differ greatly.
The origin of fry bread in Arizona
Indian fry bread was invented out of necessity. More than 150 years ago, the United States government forced thousands of Navajo Indians from their homelands in what is now Arizona, making them walk 300 miles (known as the "Long Walk") to the New Mexico Territory—and to a land where they had no access to the foods that comprised their diet.
To prevent the Navajo from starving, the government provided rations such as canned goods, as well as flour, water, salt and lard—which became the simple makings of fry bread. After four years of terrible living conditions, the U.S.-Navajo Treaty of 1868 was signed, allowing the Navajo to make the journey back to a smaller portion of their original homeland.
To this day, many Navajo regard fry bread as a symbol—albeit, a complicated one—of perseverance, pain, adaptability and survival. It's also a powerful link between the generations.
Funnel cake's origin story started in medieval Persian cultures. Their popular dough-centered dishes spread throughout Europe before Pennsylvania Dutch and German immigrants brought a version that resembles modern-day funnel cake to North America.
How to eat fry bread
First, let's look at how fry bread is made. A round ball of dough is rolled back and forth and flattened into a pancake of sorts. A hole is sometimes made in the center of the dough with a thumb or finger, then it's laid carefully in a skillet heated with oil. When the dough puffs up, it's turned over once, then removed from the skillet.
Fry bread is either eaten plain or layered with toppings that range from honey and sugar to beef and beans.
While funnel cake is traditionally served plain with powdered sugar, fry bread enjoys dual roles as a sweet confectionary or a savory taco crowned with ground beef, beans, diced tomatoes, shredded lettuce and cheddar cheese.
Fry bread is bubbly and chewy—sort of like pizza dough or puffy pita bread—while funnel cake is bumpy and takes on a layered shape, like a bundle of yarn.
Both funnel cake and Indian fry bread make appearances at state fairs and carnivals. But for fry bread, there are signs of a shift at Arizona restaurants with menu items that do justice to the food's cultural significance. Look for fry bread served alongside chipotle peppers, tepary beans, nopales and corn—heritage ingredients that speak to Arizona's agricultural history.

Where to eat fry bread in Arizona
These restaurants' takes on this cultural dish have won awards, rave reviews and cult followings.
Café Santa Rosa, Tucson
Try the Indian Burger: two hamburger patties, roasted green chiles, cheddar, shredded lettuce, tomato and onion, all stuffed into a folded fry bread "bun."
Cameron Trading Post and Restaurant, Cameron
A staple on the menu since the 1930s, the Navajo taco is smothered in a spicy base of ground beef and chili beans and topped with chopped green chiles, shredded lettuce, tomato and cheese.
Courtyard Café at the Heard Museum, Phoenix
Get a taste of heritage ingredients when you order fry bread with creamy tepary-bean hummus. For dessert, try warm fry bread and ice cream.
Fry Bread House, Phoenix
You can go sweet (fry bread covered in butter and cinnamon) or savory (topped with a hearty helping of chorizo and beans). Owned and operated by members of the Tohono O'odham Nation, the Fry Bread House earned an America's Classics Award from the James Beard Foundation in 2012.