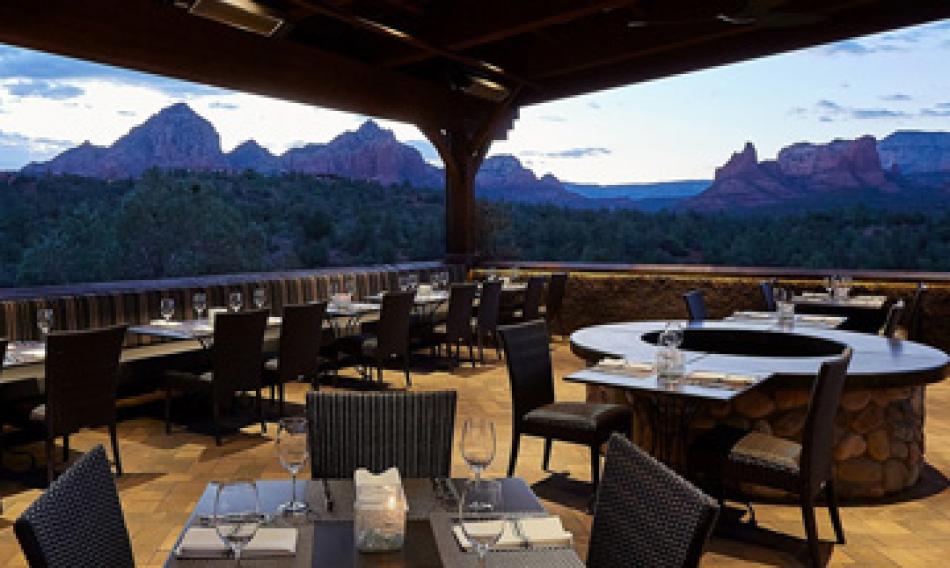 Dining with A View
Take in scenes of city lights, mountains or desert beauty with your meal...
Take in scenes of city lights, mountains or desert beauty with your meal.
Let's face it. Arizona is all about those Instagramable views. You spend time framing mountains, desert and city-light vistas just so. So why stop when it comes to choosing a place to enjoy a meal? Here are a few Arizona restaurants where the food is great and the views require no filters.
Northern Arizona
Just outside of Page, the deep blue hue of Lake Powell and the striated colors of the surrounding cliffs are front and center at Lake Powell Resort's Rainbow Room. The modern lakeside restaurant has floor-to-ceiling windows so everyone has a view of the lake and boats during the breakfast buffet or dinner. The menu offers up regionally inspired fare, such as sweet corn fritters, achiote-seared pork tenderloin and prime rib tacos, made with Arizona-grown beef.
El Tovar Hotel / Credit: Scott Johnson Photography
Perched on Grand Canyon National Park's South Rim, historic El Tovar Hotel's Dining Room offers visuals, inside and out. The stately dining room – open for breakfast, lunch and dinner – is built of pine and stone, adorned with murals depicting Arizona's native tribes and interspersed with windows framing views of the canyon. The menu celebrates Arizona's heritage, with items like salmon tostadas and stuffed roasted quail. For grazers, the lounge has bar snacks and a porch that's practically at the canyon's edge.
The View Hotel – within Navajo Nation's Monument Valley Tribal Park – opened in 2008, designed to capture spectacular vistas of landmark Mitten and Merrick buttes. Ditto for the hotel's View Restaurant, where guests keep cameras and cell phones handy for snaps during breakfast, lunch and dinner. The menu emphasizes native dishes, including mutton stew and Navajo tacos. Depending on the weather, diners can eat on the restaurant's patio to soak up even more views.
North Central Arizona
Noted Sedona chef and restaurateur Lisa Dahl's newest restaurant, Mariposa–Latin Inspired Grill (top photo), features empanadas, ceviche, grilled chorizo and fresh fish dishes inspired by her travels throughout Argentina, Uruguay and Chile. She's also installed two wine vaults that house some 600 bottles, including many varieties from South America. But the architecturally striking building – set on a bluff – is all about Sedona. Big window walls capture views of red rock formations, and the covered patio means that plenty of guests are able to watch the sun's fading light wash over cliffs and spires.
Greater Phoenix
A winding road leads up to Top of the Rock Restaurant, built into a hillside at Phoenix Marriott Tempe at The Buttes. The restaurant's dramatic architecture – it looks like a sundial – means killer panoramas of mountains, planes landing and city lights. The dinner-only restaurant also has a patio for more open-air views, but do take time to peruse the seasonal menu, which emphasizes local produce, cheeses, meats and drinks. You might find dishes like quail egg shooters with huitlacoche, roast chicken accompanied by kale and dates or a Meyer lemon risotto.
On the 15th floor of the Talking Stick Resort, Orange Sky restaurant is a sleek, modern jewel with 360-degree views of the surrounding Salt River Pima-Maricopa Indian Community, Scottsdale and beyond – waaay beyond. But don't let this elegant restaurant's distant vistas distract you from the dinner menu, where you'll find out-of-the-ordinary entrées, like the grilled elk loin, Tajima Wagyu strip loin or lemongrass-enhanced Alaskan king crab legs. The restaurant's award-winning wine list is comprehensive enough to warrant special tasting events.
High atop the Hyatt Regency Phoenix, the Compass Arizona Grill is the state's only revolving restaurant, taking a barely perceptible 360-degree spin while you enjoy 24th-floor views of downtown Phoenix and beyond. Open for cocktails and dinner, the restaurant has a modern American menu with dishes like Béarnaise-butter filet mignon and spaghetti pomodoro, made with local Queen Creek olive oil and heirloom tomatoes. Want more yahoo views? Take the exterior glass elevator up or down and leave the acrophobes at home.
Southern Arizona
Open since 1984, Teresa's Mosaic Cafe in Tucson is known as much for its distinctive, turquoise-colored exterior as for its huevos rancheros, menudo, caldo de camaron, pollo en mole and other traditional Mexican dishes, mostly inspired by the cuisine of Oaxaca.
It's a family-run breakfast, lunch and dinner place, boasting a chef who's a Culinary Institute of America grad. And the high-elevation, westside locale means great views of the Santa Catalina Mountains in the distance and city lights below.
Arizona's West Coast
In Lake Havasu City, Shugrue's has been a mainstay for decades: a martini-and-steak kind of place known for its classic menu that includes prime rib and tournedos Oscar. But as you're tucking into that filet be sure to feast your eyes on the views. The restaurant, open for lunch and dinner, is on Bridgewater Channel, a narrow portion of the lake. See cruising watercraft, as well as the graceful forms of the 1831 London Bridge, which spans the channel. Disassembled, shipped and rebuilt here, it's been a city landmark since 1971.