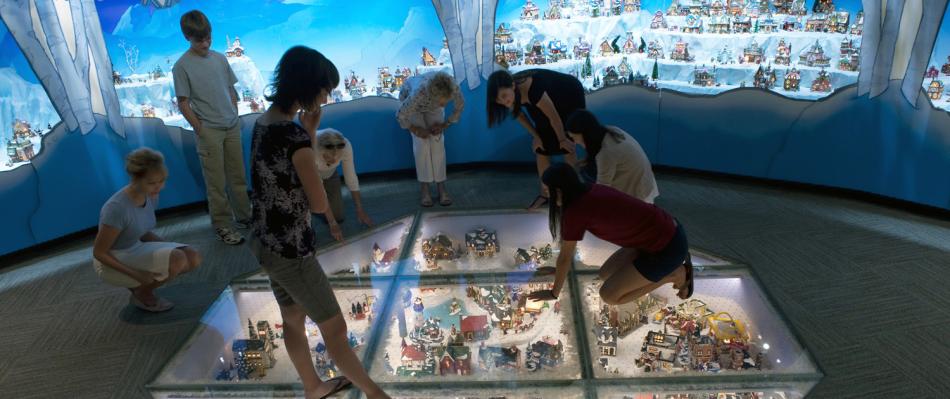 Arizona's World of Miniatures
In a state with a canyon called Grand, we know how to do big.
But sometimes good things really do come in small packages. For now let's focus on some of those itsy-bitsy, teensy-weensy attractions around Arizona.
Mini Time Machine Museum of Miniatures, Tucson
It's not only a small world but an adorably small one at this charmingly quirky museum. Called the mini time machine because visitors are seemingly transported to different lands and eras, the modernistic building overflows with all things tiny, spread throughout the themed galleries.
The Mini Time Machine's collection includes more than 400 houses and room boxes divided into three main areas: the Enchanted Realm, History Gallery and Exploring the World. Kids and adults alike can embark on countless memorable journeys, all at their own pace.

Dwarf Car Museum, Maricopa
A replica of Mater from Pixar's Cars greets visitors. / Credit: Dwarf Car Museum
It feels like an optical illusion the first time you see Ernie Adams standing next to a '49 Mercury that barely reaches his waist. (He can't be that tall, can he?) Look again: It's the stylish Merc that's the illusion. Built to an 11/16th scale, it's one of Adams' famous "dwarf cars," handcrafted with a painstaking eye for detail.
Even though he is the originator of the dwarf racecar phenomenon, Adams now focuses on building fully dressed street-legal dwarf cruisers with fenders, chrome and finished interiors. All parts must be modified or handmade right down to the knobs, door handles and miniature working radios. More than a dozen of the wee rides, as well as one dwarf boat, are housed at Adams' Dwarf Car Museum southwest of Maricopa and west of Casa Grande.
Thorne Rooms, Phoenix Art Museum
Even though the Thorne Rooms are terribly inviting, you can't go in. You'd never fit. But they're just the right size to let your imagination pull up a tiny chair. The precisely detailed miniature rooms were conceived, designed and largely created by Narcissa Niblack Thorne. The Indiana artist began crafting her elaborate interiors in 1930 and fewer than 100 are on public display.
Showcasing the work of skilled craftsmen who worked with Thorne, each room—scaled one inch to one foot—captures the architectural style of different periods and countries. Some rooms even contain period-style rugs woven specifically for them. In 1962, the Phoenix Art Museum acquired 20 of the rare Thorne rooms, a tiny treasure if ever there was one.
McCormick-Stillman Railroad Park, Scottsdale
Credit: McCormick Stillman Railroad
When it comes to old-fashioned travel there's not much nostalgia for the days of stagecoach, blimp and steamboat, but mention "train" and watch eyes light up. Trains have inter-generational appeal, which makes the McCormick-Stillman Railroad Park such a perfect family getaway.
The 30-acre park offers a step back in time. Hop aboard the centerpiece Paradise & Pacific Railroad, a reproduction of a Colorado narrow gauge railway complete with trestles and tunnel. Or take a spin on the exquisitely restored 1950 carousel. A fleet of model trains clickety-clack through a sprawling new building, and the on-site Scottsdale Railroad Museum highlights the casual grace of train travel. There are even playgrounds handy if kids need to let off a little steam.