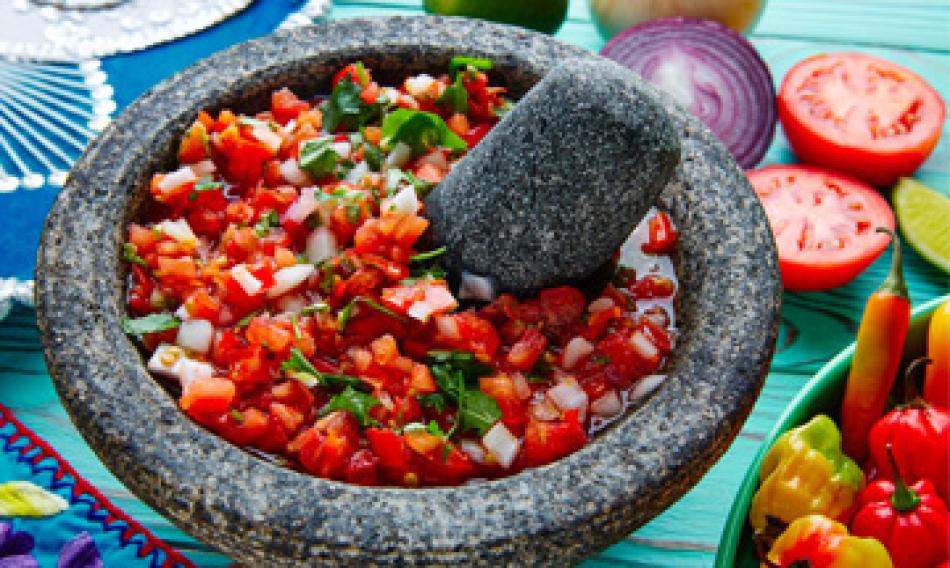 Eat & Drink
Arizona's Salsa Hot Spots
Celebrate the spicy side of life at festivals and local shops...
Celebrate the spicy side of life at festivals and local shops.
Whether tame or thermonuclear, traditional or unconventional, salsa and hot sauce are the go-to condiments in Arizona. You can sample the best local salsas and hot sauces along Southern Arizona's Salsa Trail and at salsa festivals throughout the state. Or, purchase a jar of Arizona sauce and salsa makers at their stores.
Safford's Salsa Trail & Salsa Fest
Arizona has an entire route dedicated to salsa, the Salsa Trail, which connects several Mexican restaurants, taco shops and a tortilla factory in the southeastern section of the state. Pick up a trail map at any of the 16 stops or at the Safford Visitor Center.
To taste the offerings from the Salsa Trail restaurants all in one place, head to Safford in September for the annual Salsa Fest. Friday night showcases their spicy handiwork during the Taste of the Salsa Trail event.
On Saturday and Sunday, attendees can taste salsas prepared by professionals and amateurs and vote for their favorite. The Salsa Fest also includes a salsa-eating contest, a jalapeño-eating contest, Chihuahua races, a car show, a kids' zone, live entertainment, cooking demonstrations and up to 80 vendors.
Salsa festivals in Arizona
Safford doesn't host the state's only salsa fest. The following competitions are also popular throughout Arizona.
My Nana's Best Tasting Salsa Challenge in Phoenix is one of the state's largest salsa events and features more than 100 fresh salsas made by chefs, salsa companies and talented enthusiasts. At the same time, mixologists go head-to-head in the Jose Cuervo Margarita Mix-Off, a separate competition within the event.
More than 15,000 people pour into the town of Maricopa for its annual Salsa Festival to sample the hot, mild and unusual entries in the community's salsa competition. Between tastings, attendees can listen to live music or sip a brew in the beer garden. Games and inflatables are available for kids.
Admission to Tucson's Salsa and Tequila Challenge – a 21-and-over event – includes samples of salsa, tequila cocktails and food prepared by local chefs and resorts. Proceeds benefit the Community Food Bank of Southern Arizona and Southern Arizona Arts and Cultural Alliance's art therapy and education programs.
Arizona's locally made salsa
If you can't make it to the Salsa Trail or to a salsa festival, you can purchase locally made salsa and hot sauces throughout the state. Here are a few of the many options available.
At the Santa Cruz Chili & Spice Company, the owner Jean Neubauer's father, a stuntman, developed the four salsas for sale at this local spice shop near Tumacácori National Historical Park in Southern Arizona. The salsas are also available at some Tucson grocery stores.
El Charro Café is the nation's oldest Mexican restaurant continually operated by the same family. It sells the salsas it serves diners in retail jars or by the pint at all three of its Tucson locations.
Arizona Salsa & Spice Company's all-natural salsas (no chemicals, flavor enhancers, or fillers) each contain up to 11 different peppers, adding layers of flavor – and sometimes heat – that you won't find in other salsas. They are available at their Mesa store and AJ's Fine Foods grocery stores.
Known for its Ass Kickin' brand, Southwest Specialty Food Inc. produces more than 200 salsas, hot sauces and cooking sauces with colorful names like Whoop Ass Ghost Pepper Hot Sauce. Visit the production facility's gift shop in Goodyear for salsa, seasonings and more.
Local habaneros and lemons flavor the line-up from Mama Bella Hot Sauce, named for owner Ana Bella DeAnda's mother, Bella. They are available at the Yuma Quartermaster Depot Visitor Center.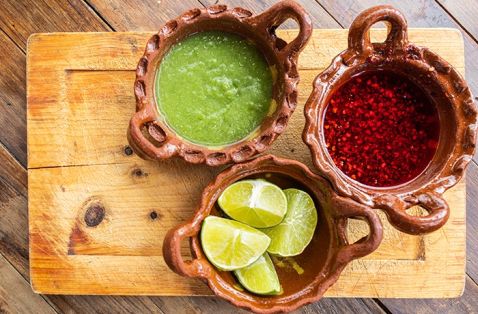 Eat & Drink
Want to blow fellow diners' minds with knowledge the next time you nosh on chips and salsa? Then definitely dip into this story.
Eat & Drink
Chef Maria Mazon, founder of Tucson's BOCA Tacos y Tequila samples tacos, brews and Ethiopian injera with her wife and two friends.