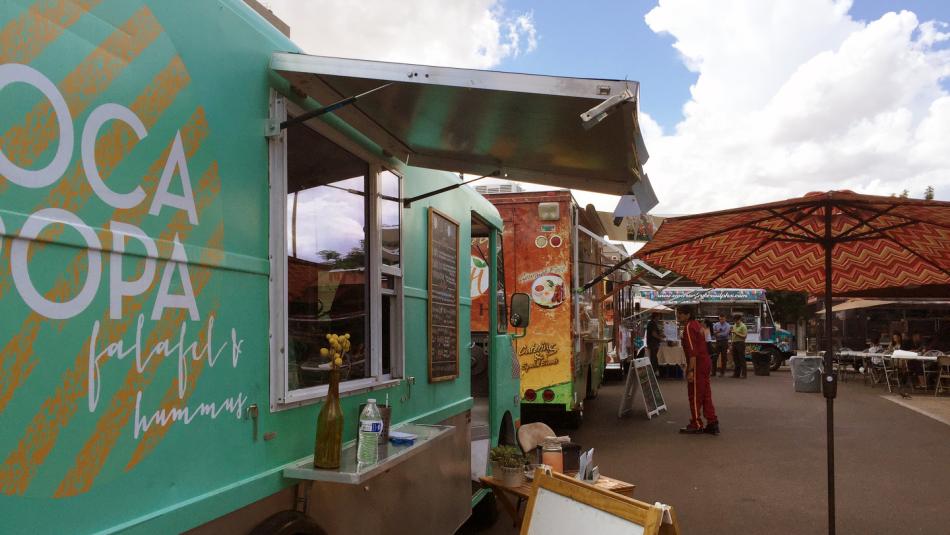 Eat & Drink
Arizona's Quirkiest Food Trucks
Food trucks are making a name for themselves with stylish wheels and surprising twists. Here are six AZ food trucks worth your attention.
Over the past decade, food trucks became a thing. Chef-crafted dishes that come to you? Genius. But with popularity comes ubiquity. So how does a food truck make a name for itself these days? With surprising twists on old staples, odd-yet-flavorful ingredient combinations and a stylish set of wheels. Check out these six Arizona food trucks worthy of your attention.
BurgerRito, Tucson
The marriage of burgers and burritos is an inventive union we wish we'd thought of. Take BurgerRito's namesake dish. It's a burrito stuffed with a burger—hamburger patty, melted cheese, homemade sauces (ranch and habanero mango, to name two) and a Hatch green chile all wrapped in a 12-inch tortilla. It's the tastiest Mexican-influenced American food since the chimichanga.
Follow on Facebook for location updates: facebook.com/BurgerRito.
Dang Brother Pizza, Phoenix
Dang Brother Pizza's refurbished fire truck includes a wood fire oven in the back. / Credit: An Pham
Pizza might seem like standard food truck fare, but Dang Brother takes it next level. The Neapolitan-style pizzas are wood-fired in the back of a bright red, refurbished fire truck, which doubles as the pizzeria's mobile eatery. Order specialty pies like Chipotle BBQ Chicken or Chicken Bacon Ranch. The company serves its novelty pizzas at festivals throughout the Phoenix area, such as the Flying Burrito Music & Food Festival in downtown Phoenix and Motorcycles on Main in Mesa.
Follow the event schedule at dangbrotherpizza.com.
Square Root Burger, Flagstaff
This truck takes a food-truck favorite—burgers—and turns it into something that vegetarians and vegans love. Think locally grown veggie burgers with delicious toppings. Keep it classic with the cheeseburger slathered with smoked-almond "cheese," or take it up a notch with the Mayan Burger, which sports avocado, cilantro and salsa. Good news for non-vegetarians: Rumor has it the truck is expanding its menu to add real meat options.
Follow on Facebook for location updates: facebook.com/squarerootburger.
Maine Lobster Lady, Scottsdale
Maine Lobster Lady serves up fresh lobster rolls in Arizona from November through May. / Credit: An Pham
You might think that fresh seafood in the desert is a dream. But the Maine Lobster Lady food truck makes it a reality. The truck serves up a heap of wild-caught Maine lobster two ways: in a smooth, creamy bisque or lightly dressed with lemon mayo and stuffed into a buttered and grilled split-top roll. Find the Maine Lobster Lady in Arizona from November through May.
Follow on Facebook for location updates: facebook.com/mainelobsterlady.
Po Boys to Geaux, Bisbee
While food trucks dishing out po'boys might be all the rage in Louisiana, they are few and far between in Arizona. Enter Po Boys to Geaux. The truck serves traditional po'boys packed with shrimp or roast beef on New Orleans-style French bread. You can also try cheeseburger po'boys or ham and cheese po'boys—less traditional but no less delicious. The truck is owned and operated by a Louisiana native.
Location: 402 Bisbee Road, at the four-way stop
Scookie Bar, Phoenix
Think of the Scookie as the Pizookie's lesser-known cousin: a warm, fresh-baked cookie cradling a scoop of ice cream and lots of sweets. Scookie Bar's creations are completely customizable. How it works: Choose your cookie (in flavors such as chocolate chip or snickerdoodle), ice cream flavor, toppings like crushed Reese's Peanut Butter Cups, and, finally, a drizzle of your choice of syrup. It all comes together as a sweet, sticky mess served up in a bowl.
Follow on Twitter for location updates: twitter.com/TheScookieBar.