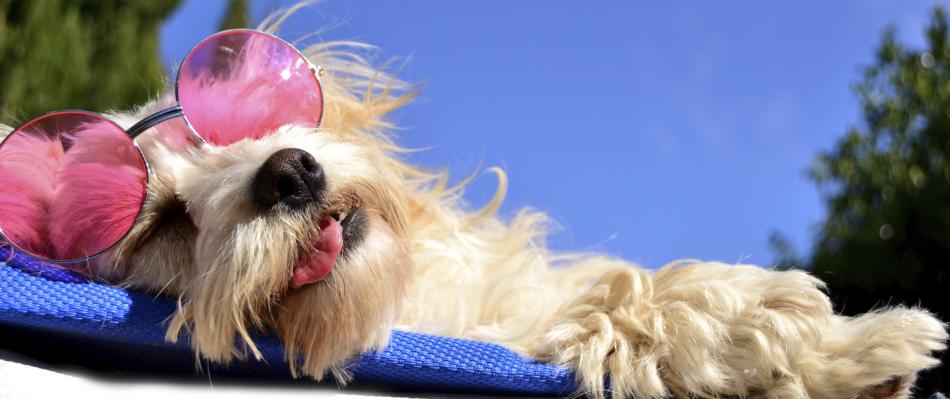 Arizona's Dog-Friendly Hotels & Restaurants
Bring your furry best friend along as you explore the Grand Canyon State.
It seems everyone travels with their four-legged companions these days. Fortunately, Arizona's canine visitors and their two-legged companions will find top hotels and eateries to cater to their every whim - from five-star accommodations to chef-driven doggie menus.
Phoenix & Central Arizona
If you're indulging in luxury lodging, shouldn't your pet enjoy posh perks, too? At The Scott Resort & Spa in Scottsdale, while you lounge by the swimming pool, your furry pal can nap on the complementary pet bed delivered right to your room. The hotel also offers food and water bowls (yep, also delivered to your door) and a pet exercise area within walking distance of the downtown hotel.
The breakfast and lunch menu at Morning Squeeze - with locations in Scottsdale and Tempe - showcases surprising takes on classic dishes. Humans savor breakfast sandwiches on pretzel buns and pulled pork with peach marmalade barbecue sauce, but it's the Tail Wagger menu that'll please the pups. The Chow Hound Scramble combines lean chicken with cheese and egg, and Doggy Biscuits and Gravy-smothered treats in a meaty sauce.
Not only does O.H.S.O. Brewery & Distillery - located throughout Greater Phoenix - welcome dogs to frolic in the designated play area, complete with relaxing Adirondack chairs for you, but your pup can belly up to the bar, too. Sip on a craft brew while your dog drinks from the Barking Bar, a doggie fountain spewing water from beer taps. Before you leave, snag a few of O.H.S.O.'s homemade dog treats.
North Central Arizona
Credit: El Portal Sedona
Have an outdoors-loving dog? Book a stay at El Portal Sedona. Several of the hotel's guest rooms have fenced-in pet patios, perfect for the dog who needs to stretch her legs. Plus, the property boasts more than 1,000 square feet of pet-friendly outdoor and green spaces. When you check in, pups are greeted with a welcome basket that includes a cozy blanket and yummy dog treats.
Hilton Sedona Resort at Bell Rock is one of those resorts that offer everything you could possibly want and more. From three pools, a spa and sightseeing tours to retail outlets and restaurants, the amenities list goes on and on. This includes offerings for your dog, too: beds, food and water bowls, even organic treats.
A chef-crafted doggie menu? Ice-cold, filtered water for pups? VIP service for four-legged guests? At Mesa Grill Sedona, you get all of the above plus a dog-friendly deck with stunning Sedona views. Select from venison stew, cheddar omelettes with turkey jerky or steak tartar served on a Frisbee - and that's just for your dog. People-food includes Southwestern dishes made with locally sourced produce and veggies.
The expansive patio at Prescott's The Barley Hound gives Fido plenty of room, and servers make sure dogs never go thirsty; as soon as you're seated, a dog bowl full of water arrives. The menu even includes canine-friendly eats such as chicken and rice, or steak. Human diners will find plenty to satiate their needs as well with inventive cocktails and elevated gastropub fare
Tucson & Southern Arizona
The 500-acre, ranch-style Tubac Golf Resort & Spa welcomes pets with a small goody bag, including toys and treats. Leashed animals are allowed to stroll the lush grounds and manicured gardens. When not out for a tranquil walk on the property, your dog will love long naps in your casita or spotting wildlife from his perch by the window.
The staff at La Posada Lodge & Casitas in north Tucson loves dogs. Like, really loves them. In addition to creating a pup-welcoming atmosphere that makes the most of the hotel's elegant boutique accommodations, La Posada also offers a Pooch Package (treats and toys) and an extensive list of nearby dog parks, dog-friendly activities and restaurants, local doggie daycares and groomers.
For pooches who love to eat - and what dog doesn't? - The Coronet near downtown Tucson brings major dog-treat game. As soon as you're seated on the pet-friendly patio, the staff will bring water and homemade snacks for your pup. These can range from bacon treats to a fluffy brioche or puff pastry dog cookie.