Arizona Women in Wine
1764 Vineyards & Vino Stache Winery
Two dynamic women from two different backgrounds, Julia Dixon and Brooke Lowry Ide found new lives and purpose in wineries located in southern Arizona in two separate American Viticulture Areas, or AVAs.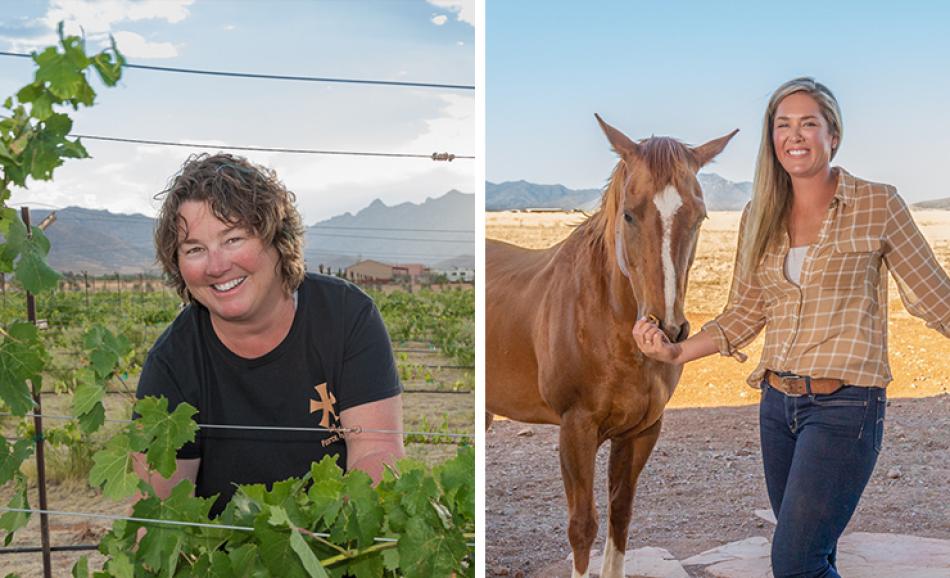 Jenelle Bonifield worked in partnership with Visit Arizona to create this blog and all photos are also her own.
Seventeen Sixty-Four Vineyards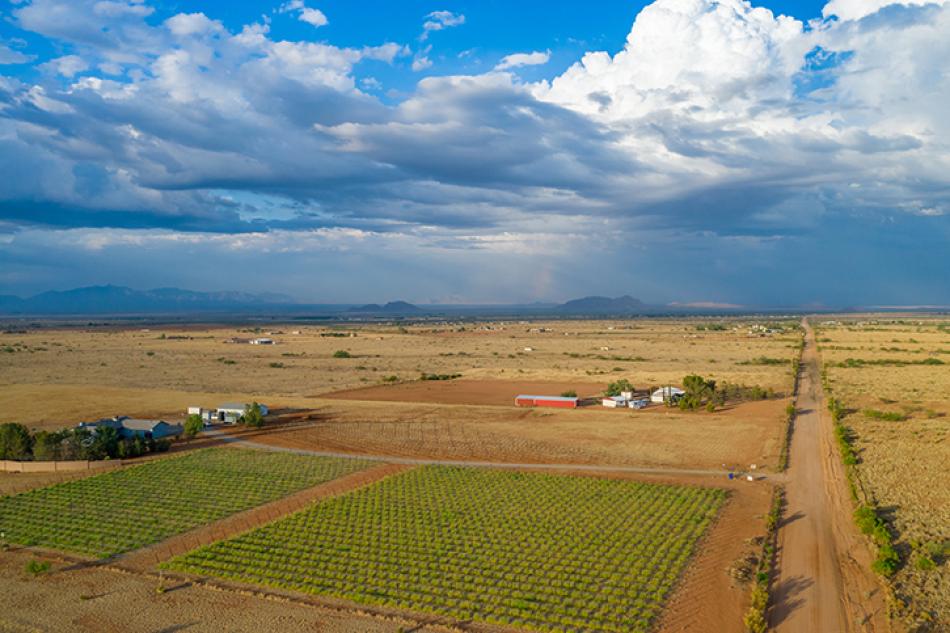 Boldly exploring uncharted paths
Pearce/Sunsites, Willcox AVA
Julia Dixon, Winemaker
www.1764vineyards.com

For Julia and Bob Dixon, their 24th wedding anniversary trip in October 2012 to the Verde Valley was a defining moment in their lives. They spent the day at a beautiful vineyard's harvest party. While sipping wine, looking out over the lush green vineyard, they both thought, "We can do this!" Despite having no prior farming or winemaking experience, within two years they boldly relocated from Phoenix to Cottonwood in the Verde Valley, where Julia enrolled in Yavapai College's viticulture and enology programs.

After she graduated in 2016, Julia purchased land with her husband and moved four hours southeast to Pearce, Arizona in 2017. She interned at Four Tails Vineyard which ultimately lead to her current position of head winemaker. Julia credits the influence of winemaker Gary Kurtz for helping her develop her own skills.

Shortly after moving to Pearce, Julia and Bob founded Seventeen Sixty-Four Vineyards. Just east of Cochise Stronghold near the Dragoon Mountains, and an hour southeast of Tucson, their 30-acre property sits at 4500 feet in the Willcox AVA, where the climate and soil are reminiscent of growing regions found in Italy, Spain, and France. Their tasting room is located on the vineyard with panoramic views. Julia serves as head winemaker and Bob, works fulltime as a business architect. They can be found working in the winery and vineyard in the evenings and weekends.

Currently, they grow Petit Verdot, Picpoul Blanc and Vermentino. Their first wine release was 2018 Deep Thought Syrah, a silver medal winner at the 2020 AZCentral.com's Arizona Wine Competition.
Vino Stache Winery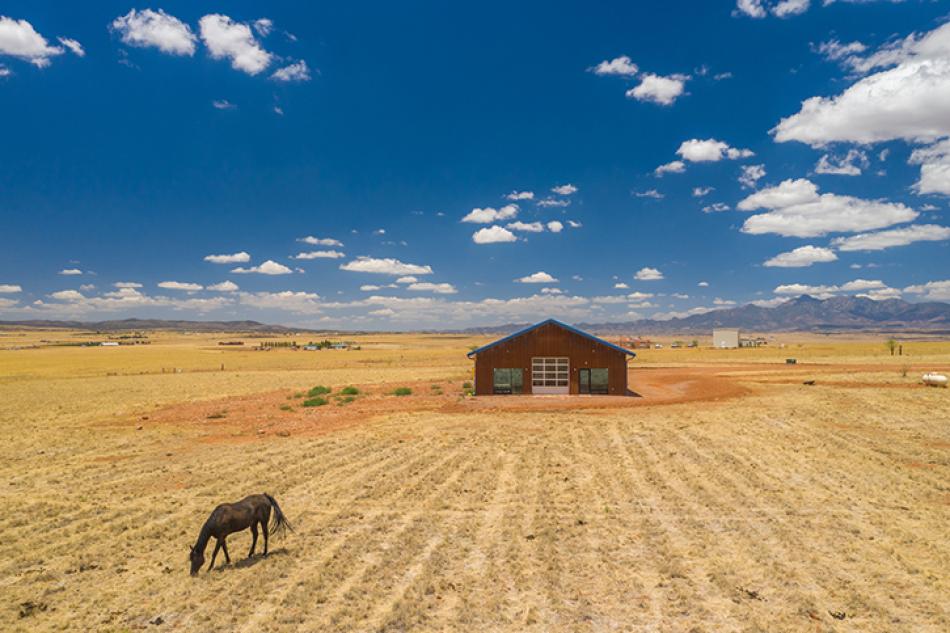 The Wino-O's Moustache
Sonoita/Elgin, Sonoita AVA
Brooke Lowry Ide, Winemaker
www.vinostache.com

As an undergraduate in maritime archeology, Brooke Lowry Ide spent summers diving among shipwrecks. Never did she imagine that in the decade following graduation her summers would include crushing grapes into wine. Brooke's career path took her from marketing in corporate America to a winemaker and owner of Vino Stache Winery in Sonoita-Elgin, Arizona, where she produces 100% Arizona-grown and cellared wine.

Though based in Scottsdale, where she lives with her husband and four children, Brooke divides her time between home and the winery in Sonoita-Elgin, about 2.5 hours from Scottsdale ("I have a lot of heart and soul in Sonoita," she says). Since many people in the Phoenix area are unaware of Arizona's wine regions, her goal is to sell her wine in the metro area.

Brooke's journey to winemaking started in 2014 when she enrolled at Yavapai College and earned her degree in viticulture and enology. She interned at Four Eight Wineworks under winemaker Erin Center and later worked for Maynard Keenan's wineries, Caduceus Cellars and Merkin Vineyards, and Kent Callaghan's winery, Callaghan Vineyards. By 2019 Brooke was a one-woman operation working in her own winery, Vino Stache Winery.

Brooke has delayed planting her 54-acre property for now and is building her brand with fruit sourced from several Arizona growers introduced to her by her mentor Kent Callaghan. Those varieties of grapes include Cabernet, Graciano, Grenache, Malbec, Malvasia Bianca, Montepulciano, Petit Verdot, Tannat, and Vranac. "So as long as there's fruit for sale, I'm just going to buy for now," says Brooke. With wine in the barrels in her winery building, the first 2019 vintages will be bottled in 2021.

Currently, barrel tastings, and soon wine tastings, are available by appointment only.

As Yavapai College continues to turn out viticulture and enology graduates, it is refreshing to see women emerge as winemakers in a traditionally male-dominated industry. Cheers!
Cheers!
Explore the many regions and wineries of Arizona with this digital passport.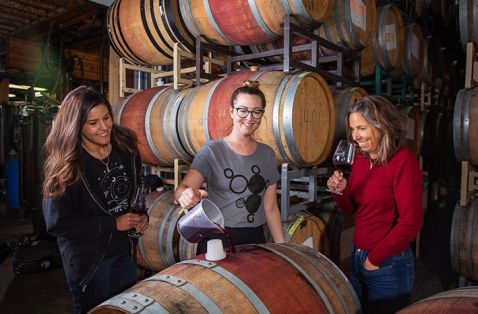 Arizona Women in Wine
Watch the paths of these three dynamic women – Gayle Glomski, Bree Nation and Lauren Maldonado – as they highlight the vitality and feminine...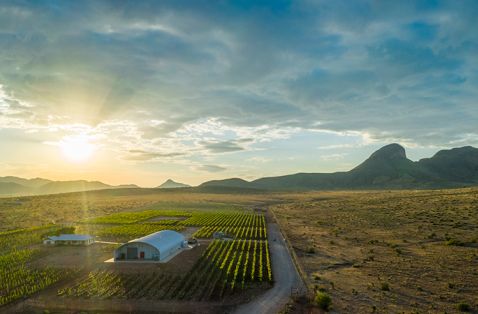 Eat & Drink
One of Arizona's fastest-growing emerging wineries is Los Milics Vineyards.