A Local's Guide to the Petrified Forest
Hear from a local on how to enjoy hiking, petroglyphs and preserved geological wonders at Petrified Forest National Park.
Petrified Forest National Park is sometimes overlooked, having to compete with that infamous sprawling gorge 218 road miles due west. Simply cruise I-40 east of Flagstaff to Exit 311, and begin a journey back in time on the 27-mile park road descending gently to the south, where the finest petrified wood in the entire Southwest is preserved. Unlike at the Grand Canyon, I've never experienced crowds at Petrified Forest National Park, which is open year-round, even in the snow.

You'll find easy and scenic trails to stroll, literally walking through time, reimagining the flourishing 225-207 million year-old Late Triassic landscape that once was verdant and wet. Nine now-extinct species of fossil trees are revealed by erosion, a buried forest transformed into stone in most of the colors of the rainbow, including a rare green.
Hiking
Start up north on the Tawa Trail (1.2 mile), or the Painted Desert Rim Trail (1 mile) as they lope on a ridge edge with outrageous views of the famous Painted Desert, richly hued badlands of the Chinle Formation. Further south is the Blue Mesa Trail, a one-mile loop through bluish banded sediments studded with petrified logs, a personal favorite. Continue on to Crystal Forest (.75 mile), and nearer the south entrance, Giant Logs (0.4 mile) and Long Logs (1.6 miles) are like treasure hunts. Overnight backpacking is possible, with a free permit, but you'll need to carry all your water, and hike just north of Lithodendron Wash into a wilderness area to camp. Dark skies and quietude are guaranteed here!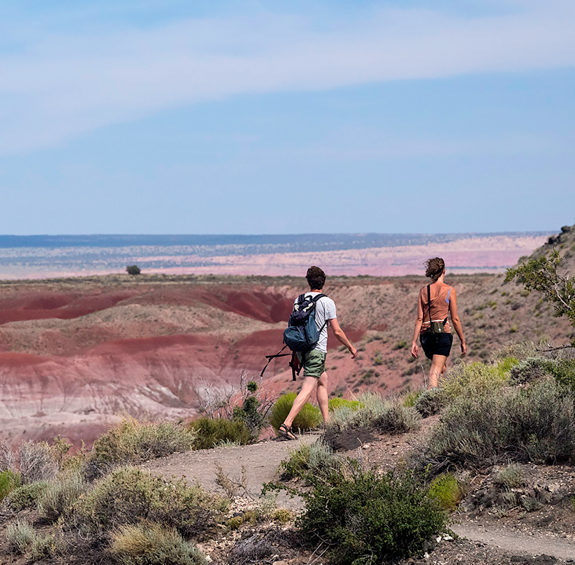 Route 66
Speaking of days gone by, myriad caravans of travelers have passed over this colorful forest of stone trees for centuries, from Coronado's gold-hungry horde in 1540 to desperate farmers seeking a brighter future in California during the Depression of the 1930s. Today, a sculptural 1932 Studebaker reclines under the open sky along the route of the Mother Road inside the park, and is worth a stop to muse on driving cross-country before the Interstate changed everything. Throw in the miners, railroaders, stagecoaches and the original peoples who roamed this dry plateau for thousands of years, and embrace conjuring that parade of history.
Petroglyphs
Rock art is always a draw for me (pun intended) and this park has a particularly fine display called Newspaper Rock, which must be viewed from above. Another excellent site for petroglyphs is close by, Puerco Pueblo, where perhaps 200 ancestral Puebloans lived in the 1300s. Extended drought drove them out by the 1380s, leaving behind them a one-story pueblo (village) of 100+ rooms, and enigmatic glyphs of bighorn sheep, antelope, snakes, lizards, birds, kachinas and people.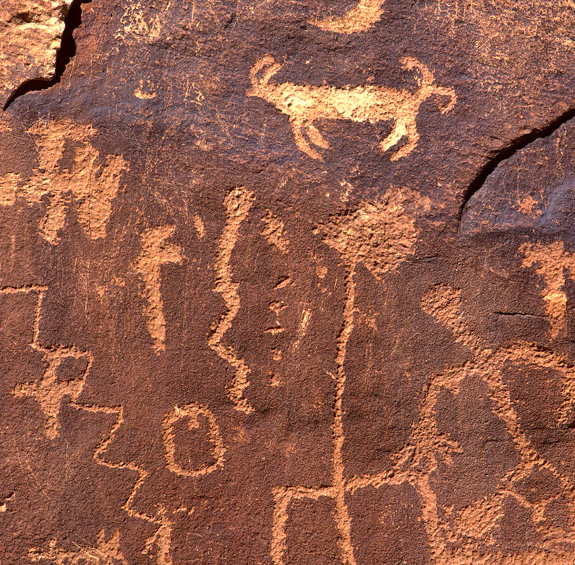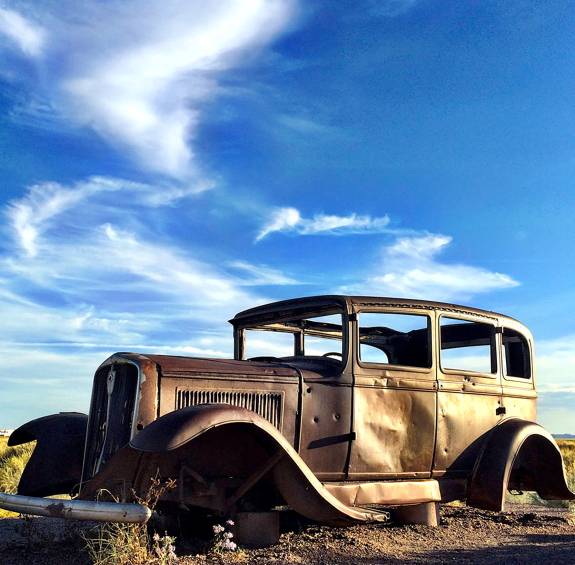 Petrified Wood
Petrified wood is not rare in the West, but specimens featuring deep earth tones like ocher, yellow, orange and purple are highly sought after and valuable. I call it the 'precious', and when you see it you'll know why. Years ago, I admired an enormous polished crosscut slab of precious petrified wood in the Smithsonian, maybe 10' wide, and never forgot that it was cut from a massive tree found in Petrified Forest National Park. The vibrantly colored rock trees of our unique petrified forest attained national park status in 1962, after becoming an early national monument in 1906, partly to save its fabulous deposits of 'precious' petrified wood from pilfering. Though much was lost in the early days, much remains for us to see closeup, or as natural sculptures in zen-like landscapes.

If you are tempted to take home a piece, please don't! Leave it for future visitors. Petrified wood found outside the park is legal to own and collect. Here's where to get your 'precious' wood fix. About 20 miles west of the park, and just south of Holbrook, at the junction of highways 180 and 77, is Jim Gray's Petrified Wood Company.
This sprawling site has a veritable forest of 'rock logs' under the sky, so walk about and dream. Their large display building shelters a grand variety of precious petrified wood, plus fossils and crystals, all under cool AC. This is like a museum, but you can buy the art, well, most of it, anyway. Book ends, slabs cut for cocktail bars, coffee tables, or simply polished or raw specimens to exhibit at home are all here in profusion. You can buy their wood by the pound, or just enjoy the astonishing range of colors.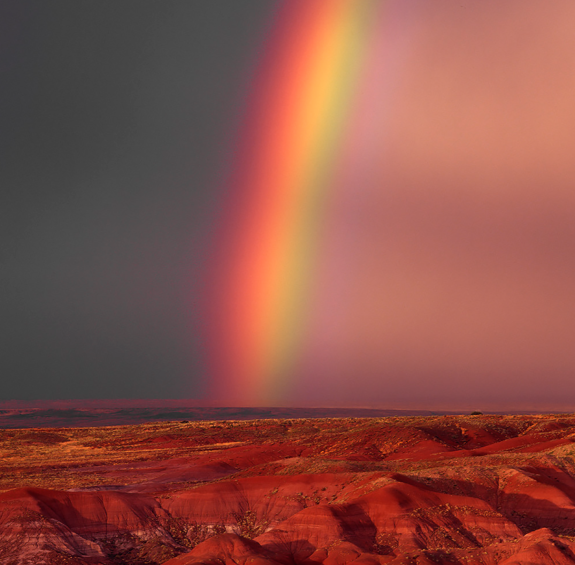 Monsoon Glory
Is there a best time to see Petrified Forest? Temperatures may range from zero in winter to 100 degrees in midsummer, so spring and fall are most pleasant, but even so my chosen time to walk the trails is during Arizona's late summer monsoon. Thunderstorms dance in the afternoons around the 360-degree horizon, and lightning and rainbows illuminate the landscape in moments of sheer visual magic.
The Painted Desert soils glow when saturated with rain, and the air is scented and electric. This is grandiose beauty on a more intimate scale than at the Grand Canyon, and you'll always have a place to park, an open trail to walk, and a Route 66 motel nearby when you run out of daylight. That makes for a 'precious' national park, so take this sweet side trip next time you cruise across Northern Arizona.