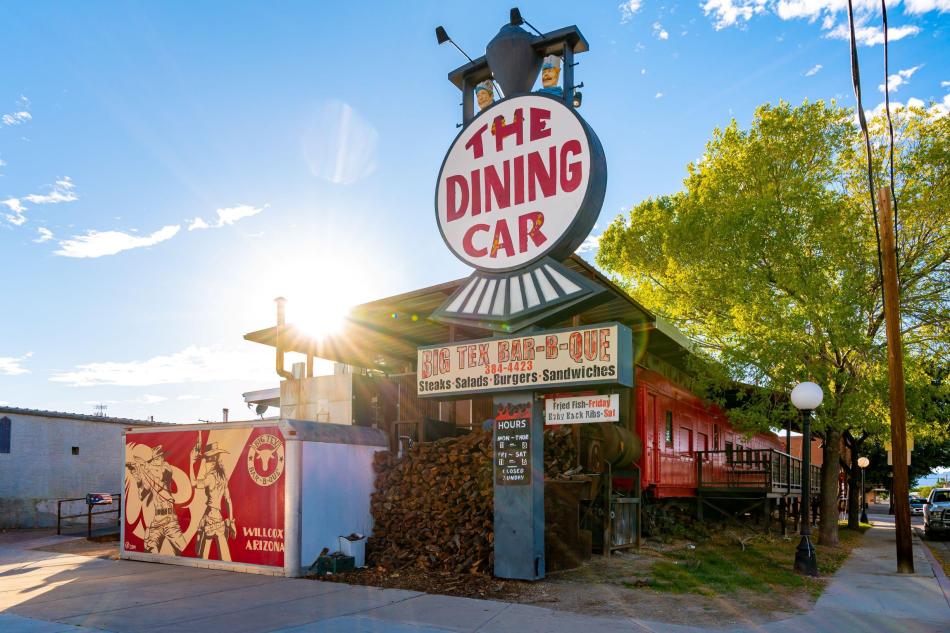 3 Arizona Road Trips with Food at the Fore
Fuel up on Beeline pie, Route 66 ice cream and southern-Arizona BBQ.

STATE ROUTE 87: PHOENIX TO SHOW LOW
Destination: A weekend in the White Mountains
Total drive time: 3½ hours
Where to eat: Beeline Café, Payson
What exit? None. About 90 minutes north of Phoenix, SR 87 drops you into picturesque Payson at the base of the Mogollon Rim.
About the place: If you love diners, you'll love the Beeline Café. It's been a staple of this mountain enclave since the early 1960s, and it's retained all of its old-school charms. Waitresses call you "hon" and "sweetie," the service is fast, and the food is filling.
Best known for: Pie, pie, and more pie! Blueberry, apple, cherry, peach, peanut butter, rhubarb, and banana cream, to name a few. Served warm with a dollop of ice cream or at room temperature, paired with a cup of steaming coffee or a glass of cold milk. However you take your pie, the Beeline serves it up.
Wait time: Not long. You can be in and out in under 25 minutes.
What to order: If you're in the mood for more sustenance than a slice of sugary-sweet pie, go for the fried chicken dinner—crispy, breaded chicken and gravy-smothered mashed potatoes. There's also the Southwest Burger with a side of slaw.
Insider tip: Stock up on dollar bills before you sit down. This place is cash only.
To sum it up: It's everything wonderful that a small-town, roadside diner should be.
ROUTE 66: FLAGSTAFF TO HOLBROOK
Destination: Petrified Forest National Park, arguably one of Arizona's most noteworthy natural wonders
Total drive time: 1½ hours
Where to eat: Sipp Shoppe, Winslow
What exit? Exit 252 from I-40, 50 minutes east of Flagstaff. Technically, the drive from Flagstaff to Winslow doesn't traverse Historic Route 66. But Exit 252 leads you to the historic part of Route 66 that runs through Winslow, a charming stopping point.
About the place: Besides its merry soda-fountain vibe and location across from Winslow's famous (and photo-op-friendly) Standing on a Corner Park, Sipp Shoppe offers darn good coffee, homemade ice cream, and towering sandwiches. Perfect refueling food.
Best known for: Shakes, freezes, floats, and malts. It's a soda shop, after all.
Wait time: 15 minutes.
What to order: For something on the lighter side, order the super-fresh strawberry salad with slivered almonds. But if road-tripping has worked up your appetite, it's the turkey and avocado sandwich all the way. Oh, and a root beer float for dessert.
Insider tip: Ask the knowledgeable staff the history of the Sipp Shoppe's home, a 1904 former bank building.
To sum it up: Historic and kitschy in the best way possible, with bonus points for excellent food and fast service.
I-10: TUCSON TO WILLCOX
Destination: A day of wine tasting in Southern Arizona's wine country
Total drive time: 1½ hours
Where to eat: Big Tex Bar-B-Que, Willcox
What exit? Exit 336, just a little over an hour south of Tucson.
About the place: Who said wine and barbecue don't go together? While barbecue might seem like the worst road-trip food ever in the sense that it's cooked slowly and always messy, it's the best thing to eat after a day of drinking. Also worth noting: The restaurant is housed inside a bright-red railway car.
Best known for: Juicy brisket, smoked ribs so tender they fall off the bone, and enormous chargrilled burgers.
Wait time: Plan to stay awhile.
What to order The barbecue, of course. The perfectly cooked ribeye is worth a try, too.
Insider tip: For a viral Instagram food snap, order the baked potato. We won't tell you why. Just do it.
To sum it up: Full of flavor barbecue served up in a historic railway car. Doesn't get more fun than that.