We are those crazy people who take our dogs with us wherever we go. They're our family, and we can't leave them behind. Bringing dogs along always makes for extra planning, expenses and hassles, but in the end, their presence adds so much to the experiences that it's always worth it. Floyd is 11 years old and the eldest of our canine pack , he has enjoyed the most adventures with us.
We have four dogs: two Chihuahuas, a Chihuahua-Dachshund mix and a Boston Terrier. Since they are all small, they're relatively easy to travel with and combined only add up to the size of one larger dog.
In his 11 years, Floyd has traveled from coast to coast, from the deepest valleys to the highest mountains. He's slept in cabins, boats, tents and historic hotels. He's been to ghost towns and mansions. He has cruised roads such as Route 66 and Highway 1.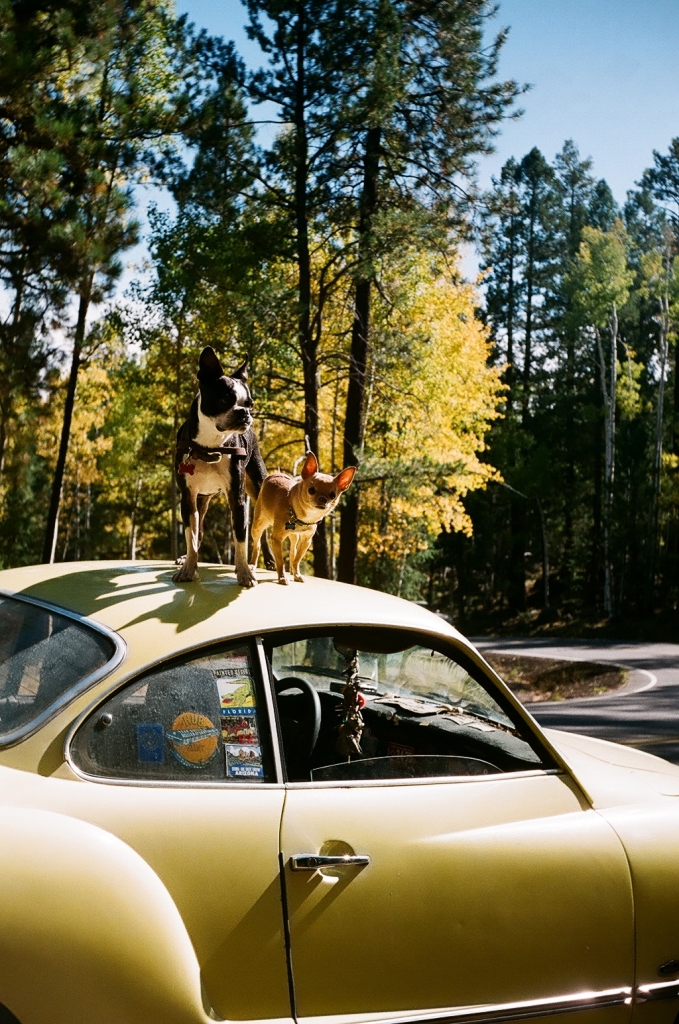 However, his very favorites places to travel are within our very own home state of Arizona. The amazing variety of landscapes and ecosystems make for a lifetime worth of adventure. The dramatic rock formations and big skies must surely seem even more impressive to a little guy who only stands 12 inches off the ground!
Arizona is rich with public lands, affording us many great camping, hiking and day-trip opportunities. Floyd is truly a wilderness Chihuahua and is a fan of hikes in Arizona's bounty of state parks and national forests. He also enjoys floats along the Verde River Greenway and the Lower TAPCO River Access Park, now called the "Verde River @ Clarkdale."
Many Arizona national monuments and parks are pet friendly. Tuzigoot, Montezuma's Castle and the Petrified Forest National Park are a few attractions that allow pets on the trails as long as they are kept on a leash.
Almost all of Arizona's state parks, with the exception of historic buildings like Riordan Mansion and Jerome State Historic Park, allow leashed dogs. Red Rock State Park in Sedona is one nature park that does not allow dogs, though the neighboring Red Rock Crossing provides a nearby alternative. Dogs can deter bird and wildlife viewing, and this is the reason they are sometimes not welcome, leashed or not. Dead Horse Ranch in Cottonwood is a great place to hike with dogs, and also offers great river access points and fun sandy beaches. Our favorite dog hike trail at Dead Horse is the Lime Kiln, as it winds through the varying strata of limestone and sandstone, serving a big beautiful view of the Verde Valley at every turn.
Arizona's National Forests allow leashed pets, so Floyd has wandered through the aspen forests of the San Francisco Peaks, the red maples of West Fork in Oak Creek Canyon's and Woodchute Mountain Wilderness near Jerome.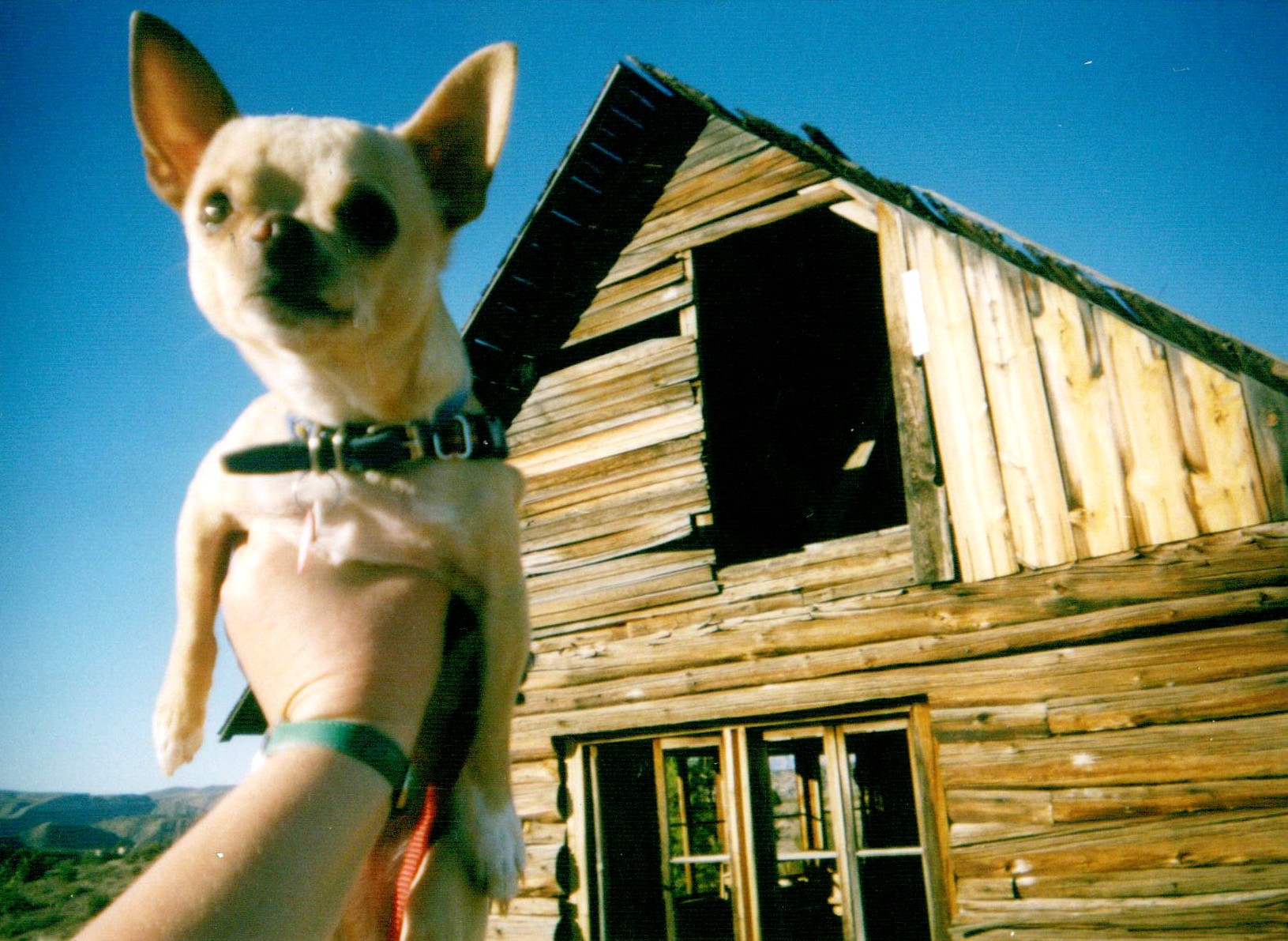 Regardless how different the landscape or the temperature, or the duration of the expedition, Floyd is game for any location as long as we are together. As we're packing for a trip I often find him curled up in my suitcase, nestled among my clothes as if to say, "You're not leaving without me."
Arizona is a great place to travel with your pets. Here are some tips to help your dogs enjoy a visit to the Grand Canyon State:
Water
We always carry lots of water for both ourselves and the dogs no matter the season. We try to coordinate summer hiking along water sources, so everyone
can get soaked now and then to keep cool. Sun-baked sandy trails can scorch the pads of the dogs' feet, so we minimize midday hiking in the heat.
Vaccinations
Always make sure your pets are up to date on current vaccinations. We've never been asked about them, traveling within Arizona, but most dog parks request pets be current on vaccinations. To fly on planes, the airlines do require rabies vaccine be current.
Permission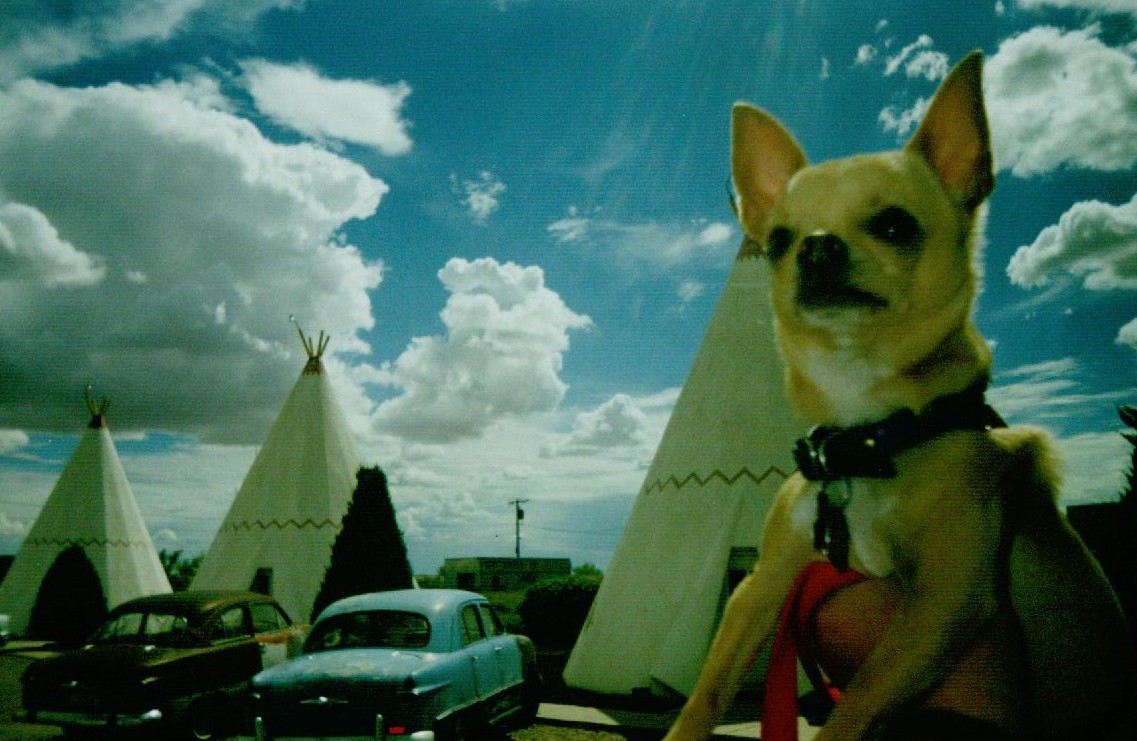 You would be surprised how many places welcome your furry friends. Restaurants with outdoor decks and patios often allow a pet to lie at your feet during your lunch. Crema in Old Town Cottonwood permits dogs in its courtyard. Historic lodging like La Posada in Winslow, and the Wigwam Motel in Holbrook allow dogs and do not charge any additional pet fee. Always get permission. Call, ask about the extra fees (if any) and tell the desk clerk you are traveling with pets. Some properties have rooms dedicated to those traveling with pets. Campgrounds generally allow pets, and primitive camping in the National Forest is also a great, pet-friendly option.
Waste
Another reason dogs are not allowed in many places: poop! We always carry poop bags and no matter where we are or what a hassle it may be, pick it up and pack it out. The more dog owners that do this, the more venues will become pet friendly.
Wildlife
Most wild animals are elusive and will avoid you, but by simply being aware and respectful of the native habitats you can avoid any conflicts with other animals.