Explore Ancient Ruins
Discover one of the largest prehistoric structures ever built in North America. Believed to date back to 1350 C.E., Casa Grande Ruins National Monument in Coolidge is an ancient site constructed by the same Sonoran Desert people who developed irrigation farming and extensive trade connections. While the purpose of the site remains a mystery to this day, modern-day visitors can enjoy guided and self-guided tours around the ruins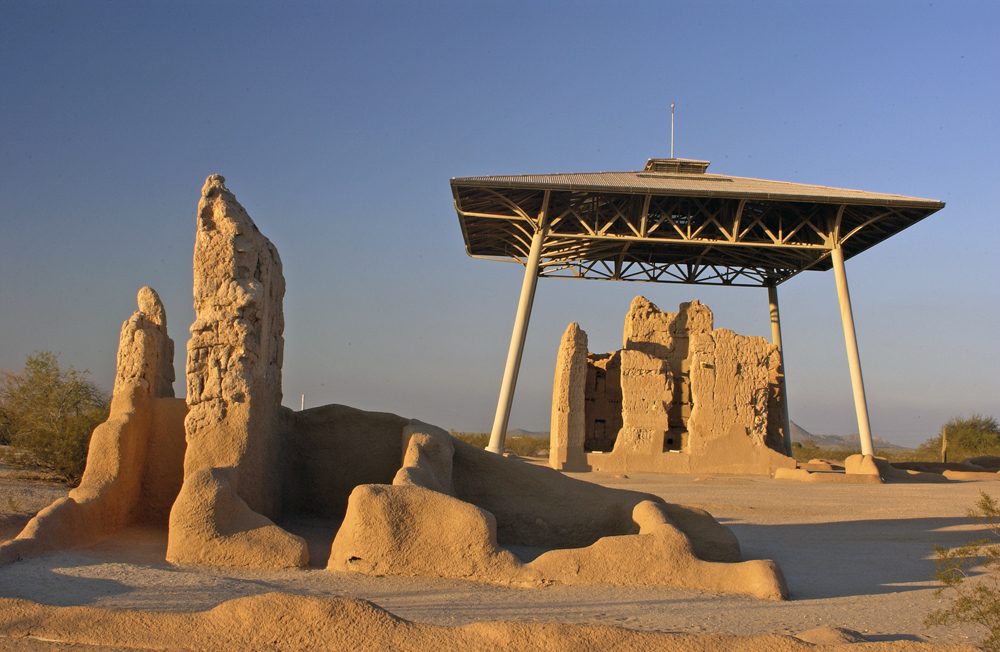 as well as take advantage of the park's museum, auditorium, bookstore, outdoor picnic areas and special calendar of events. For more information, visit nps.gov/cagr or call (520) 723-3172.
The Sights and Sounds of Downtown Casa Grande
Take advantage of cooler temperatures by catching a live music show at Casa Grande's Concert in the Park series. This October you can hear your favorite hits from the 50s, 60s, 70s and 80s as local band The Fabulous Decades takes the stage. Casa Grande's Concert in the Park happens every third Friday of the month at Peart Park. Admission is free, but seating is limited, so lawn chairs and blankets are recommended. For details, call (520) 421-8677 ext. 4561.
Fall mornings are perfect for taking a living history tour during Day Out Downtown, in Casa Grande's Historic District every Thursday at 9:30 a.m. Pastries and coffee will be provided. Tours last approximately one hour. For details, visit cgmainstreet.org.
Fuel your inner adventure seeker with Arizona's longest zip line ecotour. Located on the northeast side of the Catalina Mountains, bordering the Sonoran and Chihuahua deserts in the town of Oracle, Arizona Zipline Adventures offers one of the fastest zip lines in the Southwest, as well as gold panning, hiking trails, a general store, team-building activities for school and corporate groups and a scenic spot to grab a bite at Peppersauce Station. Reservations are required. To make yours, visit ziparizona.com.
Take a Tour on an ATV
Experience the excitement of an ATV tour through Florence's scenic Box Canyon. This thrilling three-and-a-half-hour tour with Arizona ATV Adventures takes you through 34 miles of trails and climbs 1,500 vertical feet as you explore the Pinal Mountains. Along your journey, you'll find ancient American Indian petroglyphs, the former adobe station of the historic Butterfield Overland Stage Company and Pony Express and other incredible sights. Single and group tours are available. To book your ATV adventure, visit arizonaatvadventures.com.
Find Your Favorite Trail
Take in the fresh air and full views of the Southwest by hitting the hiking and biking trails at Casa Grande Mountain Park. This recreational park offers one of the best hiking spots in Pinal County, covering more than 1,000 acres and reaching a peak of 2,350 feet. Here, hikers can experience rich desert vegetation and get an up-close glimpse of native creatures like the red-tailed hawk, black-tailed jackrabbit and cactus wren. Mountain parks have dawn to dusk hours for visitors. For more information, visit casagrandeaz.gov.


(Brought to you by the Casa Grande Chamber of Commerce, (520) 836-2125, casagrandechamber.org.)