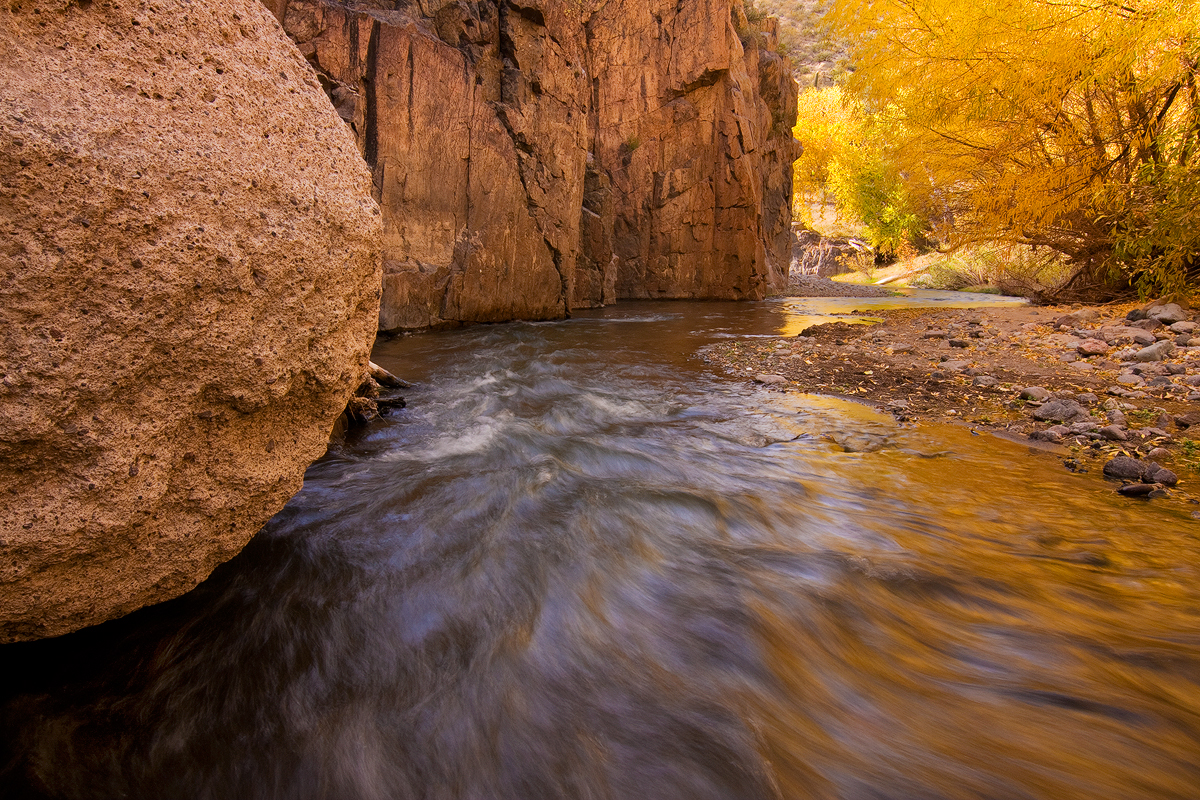 Yes, there are fall colors in Arizona. This may be difficult to fathom, as most would assume the Sonoran Desert is composed of just dirt, rocks and cactus – but that is only part of the story.
If one is willing to put forth a bit of effort and does not mind getting feet wet, hiking into the desert in November or December can be as rewarding as wandering a New England hillside in early October. The difference is that while the New England landscape is covered with a tapestry of autumn colors, Arizona boasts a dramatic desert landscape with ribbons of color amongst sheer canyon walls. What's not to love about that?
Late September to late October brings rich yellows and reds to the high-desert creeks near Sedona, Cottonwood and Camp Verde. The classic hotspot is Red Rock Crossing, where small waterfalls and yellow foliage along Oak Creek stand out against the red sandstone of Cathedral Rock, inspiring photographers from around the world to flock to Sedona. Being one who tends to go against the grain, I recommend avoiding the crowds and checking out one of the less traditional destinations – Sycamore Creek.
Sycamore Creek can be accessed via the Parson's Trail, near Cottonwood. After a quick hike that drops about 180 feet from the rim of the canyon, one is greeted with a lush, perennial creek lined with sycamore, walnut, velvet-ash and boxelder trees, all in various stages of autumn transformation. This trail continues for another 3.5 miles until it reaches Parson's Spring. One can continue beyond the trail's end and deeper into the Sycamore Creek Wilderness, where soaring sandstone walls, extreme solitude and historic cabins await. But for the casual, fall-color-seeking dayhiker, Parson's Spring is the perfect turn-around point. Other fall color destinations in the Verde Valley include West Clear Creek Trail #17 and Bell Trail #13 to Wet Beaver Creek. These are both moderate day hikes that follow the brilliantly lush creeks.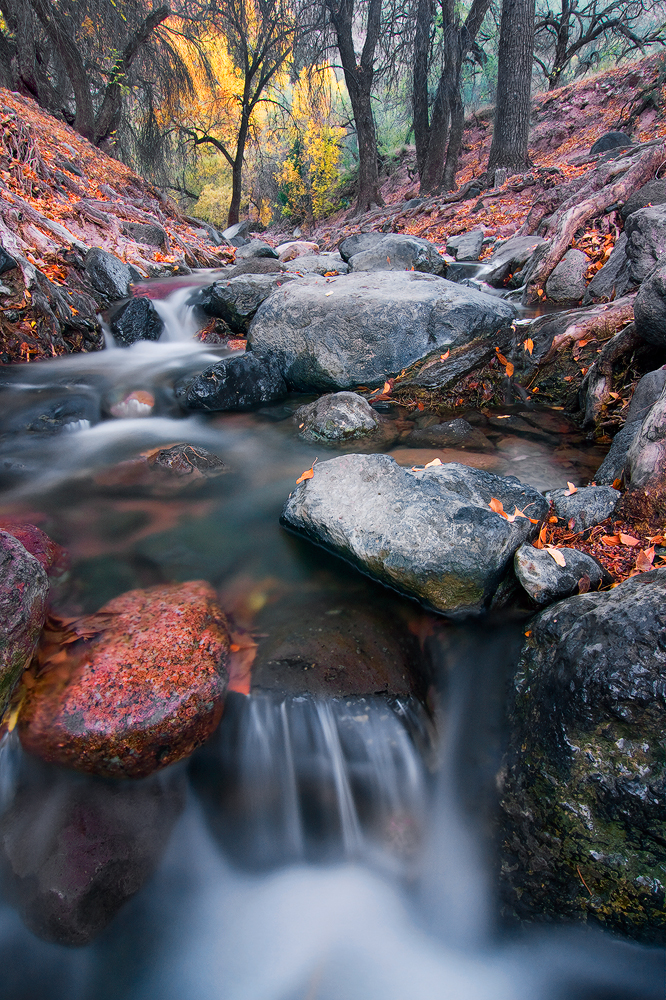 By late November, the colors are moving lower in elevation and farther south. This is an exciting time of year for desert-dwelling nature photographers, as autumn in the Sonoran Desert equates to images of yellow cottonwoods framed with Saguaro cacti.
Through early to mid December, colors continue to permeate the Sonoran Desert, lighting up all of the canyons. Aravaipa Canyon is a prime autumn viewing destination during this time of the year. Although there are two main access points to the canyon –an east and a west entrance – the west access is a much quicker and easier drive from Central Arizona (make sure to purchase a permit prior to visiting). From the trailhead at the end of Aravaipa Road, it is a quick jaunt down to the creek where hikers are soon greeted with a wet creek crossing.
Don't bother to keep your feet dry here - the route follows a shallow creek the entire time. The hike through Aravaipa Creek for 12 gorgeous miles you will find soaring canyons, prime camping areas, colorful bends, large pools, small rapids and amazing, bright yellow cottonwood groves. It is possible to enjoy this canyon as a full-day hike; however, I recommend spending at least one night at one of the many campsites along the creek. Early morning and late evening hours along the creek will allow for prime viewing of deer, javelina and coatimundi and the exceptional lighting of the "golden hours" produce invigorating scenes for photographers.
While these hikes are all rated easy to moderate, it is still important that hikers exercise caution and use good judgment. Always bring a map. GPS units are extremely helpful, although they can be dangerous if you depend solely on their functionality to get you in and out of a hike. Always watch the weather forecast before entering canyons, as flash floods can be dangerous. If backpacking, keep in mind that none of the camping destinations I described have established campgrounds with amenities. There are no bathrooms, toilets, drinking water or pay stations. Always exercise Leave No Trace (LNT)ethics and pack out whatever you whatever you pack in. Lastly, have fun!