On a summer morning at Organ Pipe Cactus National Monument, a sultry heat hangs in the air and monsoon clouds gather over the craggy hills. A few hawks circle overhead as we make our way down a trail.
I'm not here to hike, nor am I interested in the park's star namesake, the organ pipe cactus. Instead, I'm seeking the saguaro and, perhaps more profoundly, knowledge of its fabled fruit.
For this trip, I've teamed with a friend, Ned. Along with a dozen others, we aren't roaming this national monument in an aimless search of saguaro fruit. We're here as participants in a saguaro fruit harvest weekend, a series of culturally and geographically unique activities organized by the Sonoran Desert Inn and Conference Center in Ajo, where we're staying.
Standing next to a giant saguaro—the largest cactus species in the United States—Ned and I take turns using a long stick made from a dead saguaro to grab the ripe fruit, catching them—bonk, bonk, bonk—in an empty five-gallon plastic bucket.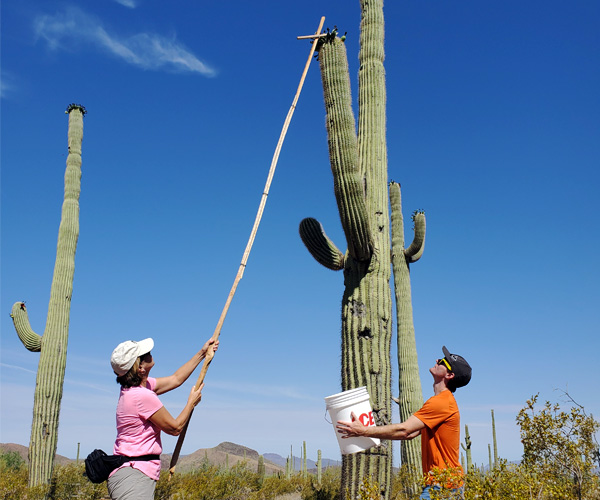 Photo: Nora Burba Trulsson

After we snag several, we slice them open revealing a scarlet-hued, juicy pulp filled with tiny black seeds, all of which we scoop out with our thumbs to eat. The taste? A tasty blend of strawberry, kiwi and pomegranate.
A family tradition becomes a passion

Our guide for this experience is Lorraine Eiler, a member of the Hia C-ed O'odham community, or "sand people," as she explains, related to the Tohono O'odham and Akimel O'odham people of central and southern Arizona. Granted a permit to harvest the fruit, she is here to teach us not only about the saguaro but also about the desert's other culinary gifts.
Born and raised in the Ajo area, Eller co-founded the nonprofit International Sonoran Desert Alliance to promote economic development and understanding of this border region's Native, Mexican and Anglo cultures.
Her saguaro sojourns began in childhood, when she and other family members accompanied her great-grandmother to camp out in the desert in June and July, harvesting the fruit at the peak of its ripening.
"We knew where the good saguaro groves were," Eiler explains, "and you really had to pick a lot of the fruit to make any amount of syrup, jam or cakes of the strained seeds."
Using kuipads, the long sticks fashioned out of the ribs of a dead saguaro, she and her family would spend days outdoors, avoiding snakes, rocks and cactus spines, to fill buckets with the fruit. Some they ate fresh, snapping off their sharp, rigid tips—a remnant of the tubular white flower that starts to bloom in late spring—to use as a tool to cut open the lobes. Others, they squeezed into a pitcher of ice water to make a refreshing drink. Most, however, they made into syrup and jam.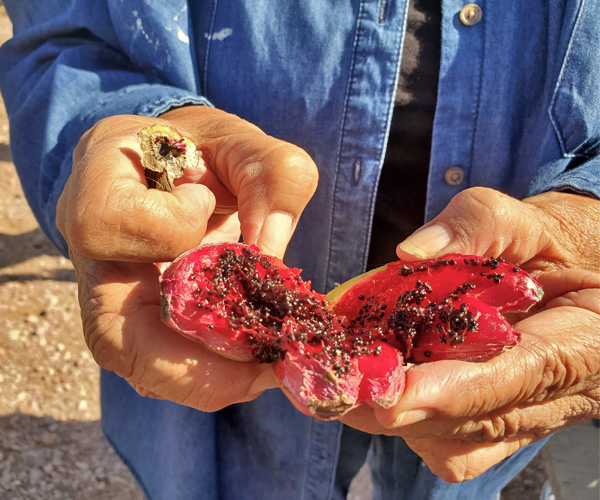 Photo: Nora Burba Trulsson

According to information from Saguaro National Park in Tucson, it's no wonder it took Eiler and her family days to harvest the saguaro fruit. It requires some 20 to 30 pounds of fruit to make one gallon of syrup!
Letting no part go to waste

To make the jam, the fruit is boiled with water, then strained to separate the syrup from the pulp. The pulp is dried, pounded to remove the seeds and then added to the boiling syrup to make a jam. Some groups save the syrup to make a ceremonial wine.
Dried, the seeds can be turned into meal to make chewy cakes or used as chicken feed. The process is worth it, nutritionally speaking. Fresh fruit is about 34 calories, and a serving of five fruits has 5 grams of fat, 4 grams of protein and is high in vitamin C and soluble fiber.
"It's labor-intensive," says Eiler, "but 100 years ago, our people lived off the land. It wasn't just saguaro fruit. We would find wild onions, cholla buds, mesquite beans and more to sustain ourselves during the year. It was also a bonding experience for the family—you need to do it in a group."
Return to Ajo

After several hours of gathering (and eating) the fruit, we retreat from the heat and return to the inn in Ajo, about 30 minutes north of the park. There, we spend the rest of the weekend learning to make tamales, fresh tortillas and saguaro cookies (a modern spin on ancient ingredients); fashioning our own kuipads from wire and saguaro ribs; and, walking to the center of town to see Ajo's public murals.
Throughout our time there, Eiler joins us, imparting bits of wisdom about the saguaro and life in the desert.
"When I was young, I didn't want to harvest the fruit or learn about our people's culture," she reflects. "I was a bit of a rebel. But I realize now, I have become my great-grandmother. I've taken up her role to teach people about the saguaro and the desert."
If You Go: Saguaro Fruit Harvest Weekend
Where: Sonoran Desert Inn and Conference Center, 55 S. Orilla Ave., Ajo
When: June 26-28, 2020
Cost: $450 per person for a private room / $330 per person for a shared room (max. two people per room) The price includes:
two nights stay
six delicious meals (dinner Friday through lunch on Sunday)
rare access to saguaro harvesting in Organ Pipe Cactus National Monument
use of all harvesting equipment
all lectures and personal instruction from Lorraine Eiler
To register, please call (520) 373-0804 or complete the online registration survey.