Join us in celebration of Arizona Travel & Tourism Week,
May 6-12, 2018!
Follow Visit Arizona on Facebook, Instagram and Twitter for daily inspiration about Arizona vacation ideas. And while you are exploring for Arizona Travel & Tourism Week don't forget to use the hashtag #VisitArizona and #LetsSeeAZ.
What You Can See and Do In Arizona This Week!
Arizona is our home. And we're lucky enough to live in a state that offers so much to discover, from things we love to things we've never tried before. From action and adventure, to family and food, to relaxation and rejuvenation, Arizona is up for anything. Are you?
Outdoor adventure
Our state offers the perfect places to go outside and play. You can hike, raft or ride a mule into the Grand Canyon. Explore the corkscrew canyons at Antelope Canyon. Brave a Jeep tour into Sedona's breathtaking backcountry. Or gallop into a spectacular sunset in Tucson.
Family Activities
With such a variety of fantastic destinations around the state, families can spend time enjoying the Old West, exciting wildlife parks like Bearizona, kid-friendly museums, luxury resorts and everything in between.
Heritage & Culture
The Grand Canyon State is currently home to 22 tribes, with a history that can be traced back over 12,000 years. Whichever reservation you visit—Navajo, Hopi, Tohono O'odham, CRIT or Hualapai, to name just a few—you'll be captivated by vast, beautiful terrain; ancient architectural ruins; and a treasure trove of arts and crafts.
Leisure & Relaxation
Arizona is home to top destination spas, including Miraval, Mii Amo and Canyon Ranch, along with award-winning urban retreats offering a range of services to help you feel pampered. If golf is more your style, you can tee of at 300+ courses with spectacularly diverse landscapes.
Arts & Entertainment
You don't have to go far to discover intriguing arts and exciting entertainment—you'll find something of interest wherever you go. Fine arts and museums, concerts and symphonies, traditional American Indian crafts and performances—it all awaits your discovery.
Sports
Arizona is a sports lover's paradise. Head to downtown Phoenix to cheer on hometown favorites like the Arizona Diamondbacks and Phoenix Suns. Or head to Glendale to show your support for the Phoenix Coyotes and Arizona Cardinals.
Eat & Drink
We hope you're hungry, because Arizona's renowned chefs, winemakers and craft breweries are ready to impress your palate. There's something for every taste, from hole-in-the-wall hotspots and neighborhood favorites to award-winning fine dining establishments.
Road Trips & Tours
In just a few hours, you can be anywhere in the state. From fascinating history to jaw-dropping scenery to heart-pounding excitement, Arizona's vibrant towns offer excitement around every turn. And best of all, they're all just a short drive away.
Wanting to learn more about this amazing state, click here to learn 10 Fun Facts About Arizona!
Here are a few detailed trip ideas and itineraries: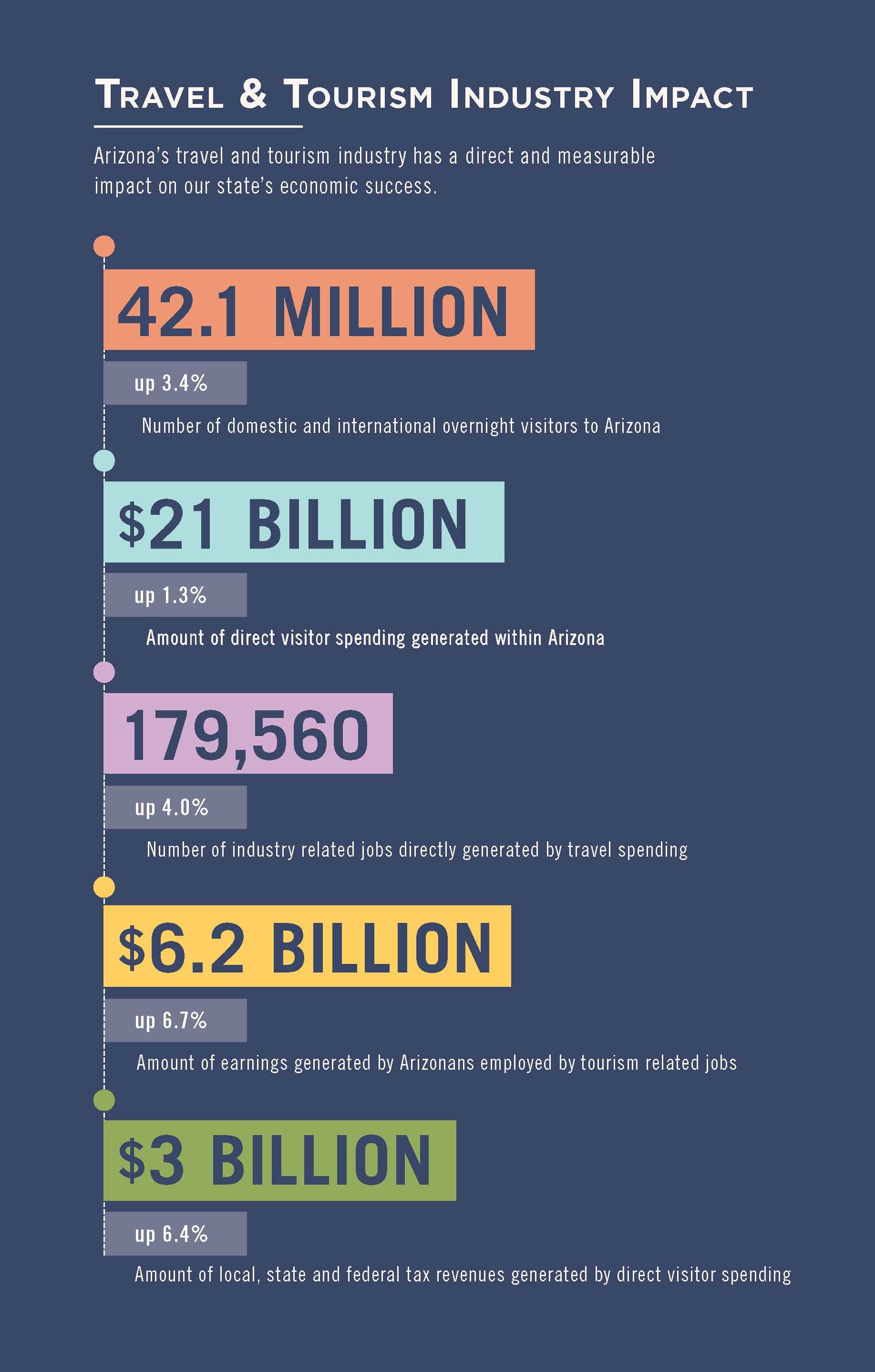 As one of Arizona's leading economic engines, the statewide travel and tourism industry is responsible for generating billions in visitor spending, billions in tax revenue and thousands of jobs. In 2015, visitor spending generated $21 billion, injecting more than $57.5 million each day into our economy. This travel activity is critical to Arizona's economic strength. Arizona Travel and Tourism Week coincides with the U.S. Travel Association's annual celebration of National Travel & Tourism Week. #NNTW17


Head to Tourism.AZ.Gov for industry resources.